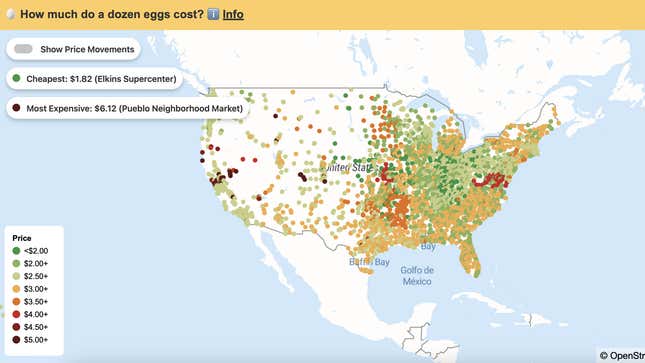 Sacha Fournier, who recently debuted an interactive map that tracks McDonald's Big Mac prices throughout the United States in real time, has followed up on the viral success of "McCheapest" with a map that tracks something else we've all been keeping an eye on: the steep price of a dozen eggs at the grocery store.
The new map, which is housed at eggspensive.net, looks just like McCheapest, but it focuses on egg prices at Walmart locations across the United States and is updated hourly. As of this writing, the city with the most expensive eggs at a Walmart is Centennial, Colorado, at a whopping $6.12 per dozen. The cheapest Walmart eggs are in Kenton, Ohio, at $1.82 per dozen.
As with the Big Mac price tracker, Fournier had to engineer custom technology to make the Eggspensive map work.
"I built a custom scraper that essentially 'browses' the Walmart website and views the eggs category for each store," Fournier told The Takeout. "Prices are extracted, and then I have some code that cleans and triple checks the data for any anomalies."
Fournier said a few Walmarts might be missing from the map, but his goal is to include all locations. He also made the data available in chart form. That page is also updated hourly and allows you to see the lowest, highest, and average prices by state. The suggestion to make an egg pricing map came from fellow Reddit users after Fournier shared McCheapest, and he jumped on the idea.
"I'm a nerd and I love data," Fournier explained. "And after checking a few egg prices online I thought it could be really cool to visualize the disparity in prices. If I'm able to save someone a few dollars, even better."
The map is populated with dots that represent price brackets, with green being under $2, orange being above $3, and deeper shades of red representing $0.50 increments from there. Fournier said he's already seen some surprises by watching live price fluctuations.
"The map went from extremely red and orange yesterday to relatively green today," he said.
Eggs have, of course, been a major source of grocery angst in the past few months, with egg prices rising precipitously as the result of an avian flu outbreak that has required the culling of flocks. Prices for a dozen eggs have gotten so high that many Americans are considering starting their own chicken farms to try to get out of paying for a carton—perhaps a shortsighted plan, since, as the Eggspensive map shows, prices are fluid.
The price of eggs, by and large, seems to be coming back down. But with a dozen eggs still over $6 at some Walmarts, Fournier's latest map is a good resource for us all.