Not too long ago, The A.V. Club engaged several of Chicago's finest chefs in the finest kind of challenge—a bacon challenge. As part of the Logan Square Food Truck Social, we provided chefs 50 pounds of bacon and asked them to prepare a dish that would wow a group of discerning tasters.

Dan Salls, chef and owner of the forthcoming restaurant Quiote, offered one of our favorite renditions that weekend—a homey, warm Mexican bacon-bean stew with surprising depth and character. Best of all, we were surprised by how easy it was to replicate at home.
Frijoles Charros

Serves 6 to 8
Prep 15 minutess
Cooking 45 minutes
1 1-lb. package of sliced bacon, cut into 1/2" pieces
1 28 oz. can fire-roasted tomatoes or 8 broiled roma tomatoes
1 28 oz. can pinto beans, strained and rinsed
1 white onion, chopped
2 jalapeños, chopped
4 cloves of garlic, sliced
1 Tbsp. ground coriander seed
1 Tbsp. ground cumin seed
1 Tbsp. ancho chile powder
1 tsp. Mexican oregano
1 pint of fried pork rind chicharrón (from a Mexican grocery store), chopped up
1 pack of fresh tortillas
1 8 oz. pack of queso fresco, crumbled
1 bunch of cilantro, chopped
3 limes, cut into wedges
Salt to taste
G/O Media may get a commission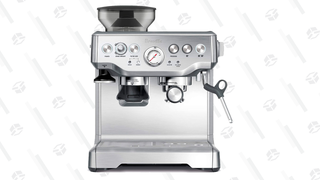 20% off for Cyber Monday starting now
Breville Barista Express Espresso Machine
1. Heat a large stock pot over medium-high heat with a scant amount of oil until it shimmers. Add the bacon, and reduce the heat to begin cooking the bacon. Stir occasionally until the fat has rendered and the bacon begins to crisp. Remove bacon with a slotted spoon to a plate, reserving enough fat in the pan to just cover the surface.
2. Add the onions and jalapeños to the fat and sauté until the onions become translucent, stirring occasionally. Add the garlic and cook until fragrant, being careful not to burn anything. Add the cumin, coriander, ancho chile, and oregano, and stir until a thick paste has formed and the spices are aromatic. Add the tomatoes and bring to a simmer (feel free to add a little water to help get the consistency to better facilitate a simmer—it will cook off as it reduces).
3. Lower heat to maintain a simmer and reduce by a quarter. Add the beans and bacon and bring back to a simmer. Cook for 15 minutes to allow the starches to thicken the tomato, bean, and bacon mixture. Adjust for seasoning with salt, and skim any residual fat off the top if you want—but remember, fat is flavor.
4. Meanwhile, heat up the tortillas on a hot, dry skillet or cast iron pan, and place them into a container with a dry linen to help them steam through and stay warm.
5. Divide the stew into bowls and garnish with queso fresco, crumbled chicharrón, and cilantro. Place bowls within reach of the tortillas, squeeze a lime wedge over your bowl, and enjoy immensely.
---
Bacon coverage at The A.V. Club is powered by the makers of HORMEL® BLACK LABEL® Bacon.