"This shit is expensive."

Make the decision to (ostensibly) improve your health with fresh or cold-pressed fruit and/or vegetable juices, and you'll inevitably make that realization. The pre-bottled stuff at your local supermarket probably costs $10 or more per bottle—and can have questionable ingredients. If you want to make your own, juicers are expensive and notoriously a hassle to clean up. Chances are you also have a juice retailer near you as well; the U.S. juice and smoothie market pulls down $2 billion, and the U.S. market for cold-pressed juices alone is expected to reach $845 million by 2024. How? Because that shit is expensive.
Realizing I've never been good at eating enough vegetables, I decided about four years ago to start drinking more veggie juice. I began with the laziest option: Naked Juice, the Pepsi of fruit juices—because it's actually owned by PepsiCo. I found their Green Machine and Berry Veggie varieties went down easily, and hey, Berry Veggie boasts 1/3 of a red beet! And 1/8 of a sweet potato! It also has a whopping 34 grams of (natural) sugar—a comparatively sized Pepsi has 55 grams of regular sugar, but fewer total carbohydrates than its Naked sibling (55 to Berry Veggie's 70). Again, there's no added sugar, but that's still a lot, natural or not.
From there I started hitting up the Jamba Juice near my office and the vaguely defined but promising "Red Vegetable Juice Blend" of its Berry UpBEEt smoothie. Jamba's website tells me the blend contains carrots, beets, broccoli, spinach, kale, and lettuce, but not how much. I'm guessing not much, though all the sugar from the other ingredients would drown out any veggie taste: strawberries, blueberries, mixed berry juice blend, and mangos. No wonder these went down so easily—the medium has 56 goddamn grams of sugar. "But it's natural sugar!" I'd say to myself. "And there are beets somewhere in this!"
When I moved, I discovered a cold-pressed juice place down the street from my new apartment. I became a fan of its house green juice, which featured significant amounts of stuff like kale, cucumber, celery, carrot, and apple, and yet still went down pretty easily. They also set me back $10 for every 16-ounce bottle, which wasn't sustainable. "There has to be a way to make something like this," I said.
After some research, I decided a juicer would probably hassle more than help. A blender would suffice, I decided, though mine had an unnecessarily large pitcher for my juicing purposes, and operates at roughly 150 decibels. For about $60, I picked up a NutriBullet and started looking for recipes. She didn't say so, but I think my wife figured it was like buying home fitness equipment: I'd use it for a couple of weeks, then hang laundry on it—or in this case, stuff it in the back of a cabinet we don't use.

G/O Media may get a commission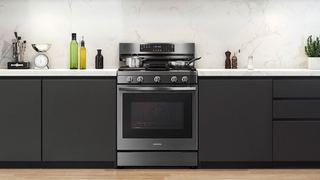 $100 off
Samsung Range Sale - $100 Off
Two years later, drinking what I call the Buncha Crap Green Smoothie remains part of my morning routine, and I still use the one of the first recipes I found. I've changed a few things about it, but fundamentally it's a pretty potent mix: kale, broccoli, carrot, spinach, frozen mango, walnuts, turmeric, ginger, chia seeds, apple cider vinegar.

It sounds gross, I know, but here's what I tell everyone who recoils at my description: It doesn't really taste like anything. My friend and I have a theory that juice should taste a little gross—that's how you know it's healthy—but if pressed for a flavor profile, I'd say "matter." The turmeric/ginger/apple cider vinegar gives it a mild kick, and there's just enough mango to neutralize the earthy vegetable flavors. The original recipe had a lot of pineapple and mango, but I didn't care for the extra sweetness or the calories that accompanied it.
Most of the ingredients are self-explanatory; kale, broccoli, carrot, spinach are poster children for healthy veggies. The walnuts didn't make sense to me until I realized they add some healthy fat. Turmeric has gone from a mysterious Indian spice to miracle herb sold in giant tubs at Costco. I don't buy all of its supposed benefits, but it does help with inflammation. Apple cider vinegar is another otherwise ancient staple recently elevated to miracle elixir. Again, it's best to keep expectations modest, like its antioxidant properties and supposed ability to stabilize blood sugar. Ginger has anti-inflammatory and anti-nausea properties, and it helps with digestion. Chia seeds are a so-called superfood that provide a lot in a little package: protein, fiber, omega-3 fats (well sort of), calcium, manganese, magnesium, phosphorus. They're also antioxidants.
Throw it all together with 12 ounces of water and a few ice cubes, and blam, you get nearly 2,000 milligrams of potassium, more than 600 percent of your vitamin A for the day, 567 percent of your vitamin C, 51 percent of your calcium, and 54 percent of your iron. The smoothie has nearly 12 grams of unsaturated fats, a.k.a., the "good fats" that can have a variety of health benefits. It also packs a significant amount of fiber, including the insoluble kind that helps keep things in your body, uh, moving. All told, it amounts to about 24 ounces of smoothie and a little under 400 calories.
Traditionally I've drunk all 24 ounces in one sitting, which keeps me returning to the produce section, but it also works just fine split into two 12-ounce smoothies for a couple days. To save time, I wash the kale, broccoli, spinach, and carrots at night, then throw them into a container so I can dump them straight into the NutriBullet in the morning.
The whole thing takes maybe five minutes to make, and it's effort well spent. If nothing else, it ensures you get some good stuff in your system no matter where the day takes you. I've noticed significant benefits personally, from my energy level to my digestive health to the placebo effect that comes from consuming healthier food.
Even with my seemingly constant expenditures for its ingredients, the Buncha Crap is still way cheaper than paying for juice elsewhere. This shit isn't so expensive.
---
Kyle's Buncha Crap Green Smoothie
1 cup kale

1/2 cup broccoli

Handful of baby spinach

1-2 thin juicing carrots or small handful of baby carrots

3/8 cup frozen mango

1-inch chunk of fresh ginger (powdered also works; I'd say a tablespoon)

1 Tbsp. walnuts

1 Tbsp. powdered turmeric

1 Tbsp. chia seeds

1 Tbsp. apple cider vinegar

12 oz. water

3-4 ice cubes

Blend for about 30 seconds and enjoy. Again, it doesn't really taste like anything, so maybe I should say "enjoy."