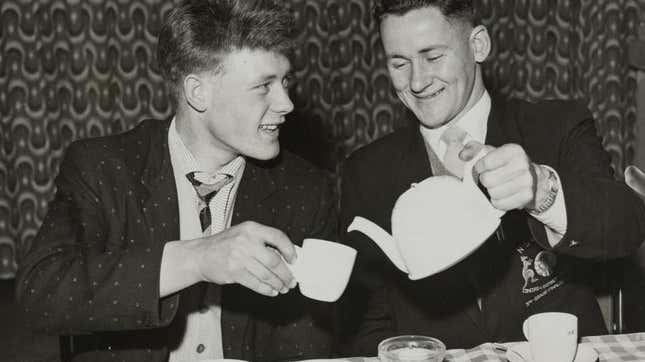 Everything old really is new again: Last week, Southern Living cited Pintererst data that suggests afternoon tea is trending in a big way. Pinterest searches for "vintage tea parties" are reportedly up by 70%, with 6.2 million Instagram posts tagged #afternoontea. It's not hard to see why the tag is so popular; after all, there's nothing more Instagrammable than pastel petit fours and floral china patterns. But afternoon tea is more than an algorithm-friendly grid booster. It's an age-old tradition, and it's exactly what we, the jaded public, collectively deserve right now. Behold, three brief arguments in favor of hopping aboard the afternoon tea bandwagon.
How to Brew Tea Without Ruining It
Tea is a great NA happy hour substitute
I am in no way deriding happy hour. Cheap Long Island Iced Teas? $1 oysters? Shrimp toasts? Happy hour is a beautiful way to settle into the "5 o'clock somewhere" mindset. But I also have plenty of friends and loved ones who don't imbibe, and I don't ever want to exclude them from afternoon revelry. Enter afternoon tea. It's a great way to include sober friends and loved ones without forcing them to order three Diet Cokes while the rest of the table slugs back discounted martinis.
It's an excuse to slow down
The concept of fika is alive and well in Sweden. The term is an inversion of kaffi, a 19th-century slang word for coffee. While fika refers generally to an afternoon coffee and cake break, it's so much more than that. One Swedish food blog writes:
"Exactly what you eat during fika is not really important. The food is incidental to the companionship, the socialising and catching up with friends and colleagues. But whatever food you choose for fika it should be fresh and well presented. Ideally it should be homemade. Many team leaders in Sweden consider it important to regularly bake something at home to take into work for fika."
An afternoon tea party goes hand-in-hand with the concept of fika. It's an excuse to slow down, relax, and embrace the joys of luxury snacking. It doesn't have to be anything fancy—it honestly doesn't even have to involve tea—but it must involve stepping away from screens for a bit.
Afternoon tea is a rich tradition
Tea is steeped (sorry) in centuries of history, having been used in a medicinal and ceremonial capacity in Eastern countries long before it made its way to Western shores. Exploring new types of tea can be a natural way to dive into history. You can slip into something frilly, pour a cup of Twinings, and pay homage to the Earl of Sandwich with a tasty nibble. You can taste-test different types of matcha and school yourself on the history of Japanese tea ceremonies. (Of course, the history of tea is also rife with forced labor—make sure to read about the history of the East India Company's labor practices the next time you reach for chai.)

Whether your afternoon tea is frilly and frippery-filled or casual and fika-inspired, it's an excuse to step away from your desk and reset. Chin-chin to that!