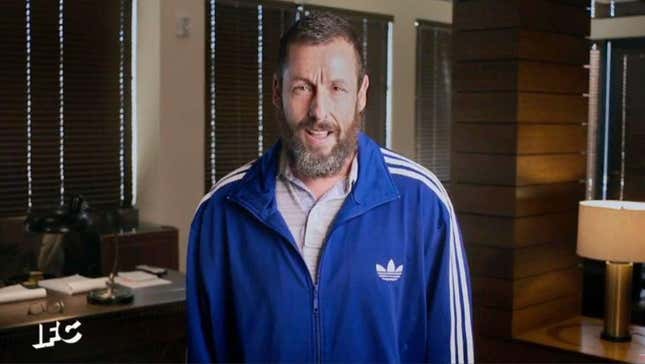 Update, May 7, 2021: How much does IHOP want Adam Sandler to come back? This is how much IHOP wants Adam Sandler to come back:
This Monday, May 10, is now officially Milkshake Monday. Nineteen IHOP locations on Long Island will be offering all-you-can-drink milkshakes from 12 p.m. to 8 p.m. That's right, Sandler doesn't even have to go back to Manhasset if he doesn't want to! He can go anywhere on Long Island!
All the Best Finds at the Sweets & Snacks Expo
Should he happen to be somewhere that is not Long Island, he can rest assured that if he goes to any IHOP in this fair nation and orders a (not all-you-can-drink) milkshake, IHOP will donate $1 to Comedy Gives Back, a nonprofit that helps out comedians who have been struggling since COVID-19 hit.
"We take our guests' suggestions very seriously in an effort to continually shake things up and satisfy all palates with our signature commitment to IHOSPITALITY," said Kieran Donahue, IHOP's chief marketing officer, in a press release. "There is no better way to kick off the week and enjoy our craveable menu than with a house-made milkshake, or as many as you can drink. For more than 62 years, we have welcomed everyone – famous and familiar – to pancake, smile and laugh together under our blue roof."
I thought the verb "to pancake" meant "to collapse," but I guess I will accept this alternative meaning. And now we can milkshake together, too.
Just one question: if Sandler shows up for Milkshake Monday and there's a crowd, will he have to wait in line for a table?
Update, May 5, 2021: Sandler has spoken! Well, okay, Sandler has tweeted!
"For the record," he tweeted yesterday, "I only left the IHOP because the nice woman told me the all-you-can-eat deal didn't apply to the milkshakes."
It's good to know that, barring milkshakes, Adam Sandler would be happy to sit on a blue vinyl bench and wait half an hour for IHOP like the rest of us.
His fans responded to the tweet by praising his humility, sharing stories of his kindness (he once bought coffee for a student who was late to class and politely accepted memorabilia from a group of soldiers who had recently finished a deployment) and offered to pay for the Annapolis Milkshake Challenge (six pounds of milkshake!) should he ever find himself in Maryland. Others begged him to smoke weed with them.
Dayanna Rodas, the embarrassed hostess, also contributed. "Heyy I'm the 'nice women'!" she tweeted. "Please come back!" Sandler did not respond.
Original post, April 30, 2021: Some of us have poor facial recognition skills. It's a problem. Especially now in the age of masks. Lately when someone on the street acts like they know me, I just wave back enthusiastically, from a distance, and then continue with my business, unless my dog really wants to say hi.

People who work in restaurants don't have that luxury. Dayanna Rodas, a hostess at an IHOP in Manhasset, on Long Island, was taking names one busy day and told a man in a black mask and North Face hoodie that the wait for a table was half an hour. So the man and his daughter left. (Understandable. I did the same thing recently.) It was only later that Rodas realized that the man was Adam Sandler. Now she is utterly mortified that she failed to recognize him and posted a TikTok that includes surveillance video of Sandler's visit, plus herself in a very scary clown filter begging him to come back.
The video, posted four days ago, now has more than ten million views and two million likes.
In her defense, Sandler was wearing a mask and was not wearing a name tag or his Happy Gilmore or Robbie the Wedding Singer costume. And also, he was very chill about the whole thing. He did not pull a "Do you know who I am???" Instead, he just nodded, looked vaguely disappointed (at least as far as I can tell; the mask makes it hard), and then motioned to his daughter that they were leaving.
IHOP was understanding about the lost opportunity to serve pancakes to a movie star.
"We love and appreciate our famous friends, and the beauty of IHOP is that for the past 60 plus years, we've welcomed everyone to pancake together under our blue roof," said an IHOP spokesperson in a statement to NBC News. "While we weren't able to serve Adam in this particular instance ... we look forward to serving him on his next visit!"
Sandler himself had no comment—though his publicist did confirm that, yes, he was indeed the man in the video—but Rodas now has more than 14,000 TikTok followers.