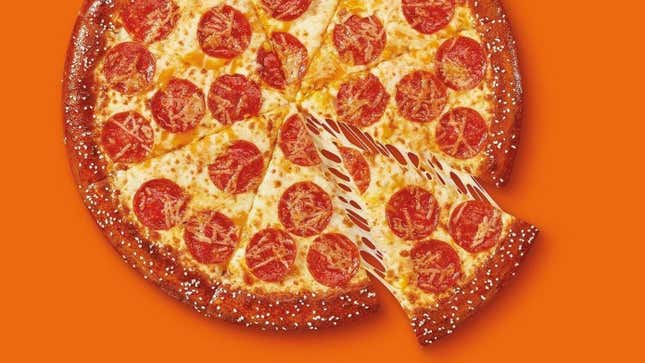 There's zero doubt that the Pretzel Crust Pizza from Little Caesars has a dedicated following. When the top-five pizza chain re-released this quirky yet popular item as a limited-time offering in March, fans were quick to snatch it up. Now, we can confirm that thanks to consistent demand, this not-quite-pizza pizza isn't going anywhere, at least not for the time being.
How To Dispose Of Cooking Grease The Easy Way After Frying
What is the Little Caesars Pretzel Crust Pizza?
The Pretzel Crust Pizza is just that: a pizza with a pretzel cornicone, which is the fancy pizza-maker word for the outer ring of crust. The perimeter is dotted with a generous amount of pretzel salt, and rather than tomato sauce, the pie is topped with cheese sauce, mozzarella, and pepperoni. It can even be upgraded to a cheese-stuffed crust, if you haven't hit your dairy limit. That's a lot of bells and whistles for one pizza.
Because of this, I have posited that it's not entirely pizza in the technical sense, which might be a controversial opinion but one that I stand by. Either way, my fiancée is such a fan of the Little Caesars Pretzel Crust that I'm confident we order it more than most people ever do.
Why Little Caesars' Pretzel Crust Pizza is staying on the menu
"Little Caesars has extended the availability of Pretzel Crust for our digital customers due to overwhelming demand from pretzel fans this year," a representative for Little Caesars told The Takeout via email. Note that this is a digital offering, meaning you have to order it via the app or online.
The fact that this limited-time offering started in March and has extended into June left us wondering: Could the Pretzel Crust become a full-fledged permanent menu item?
"This product remains a limited time item, but we are constantly evaluating the status of different menu offerings to determine what should stay in our stores permanently," the representative said.

So for now, there's still an eventual expiration date for fans to dread. But if the Pretzel Crust Pizza continues to sell well, or at least at a regular clip, Little Caesars just might have to consider adding it to the roster of round, thin, and Detroit-style pizzas on the menu.
Fast food chains don't make such decisions lightly. At such a massive scale, sales numbers will ultimately determine whether this pie can stick around forever. So if you love the Pretzel Crust Pizza, make sure you order one soon.