Last Call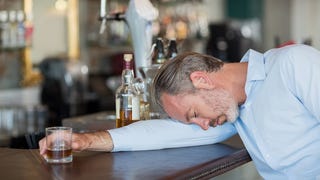 Last Call
Last Call is The Takeout's online watering hole where you can chat, share recipes, and use the comment section as an open thread. Here's what we've been reading/watching/listening around the office today.
Could a cute lemon pig bring you luck in 2019?
Lots of people have traditions to kick off the New Year with a fortunate omen, from making resolutions to eating black-eyed peas. Over the past few years though, it seems like there's a new tradition: making a lemon pig. According to Gastro Obscura, the habit kicked off last year when the retro food Twitter account @70s_party promised that carving a lemon piglet with a coin in its mouth would bring good luck in the year to come.
But Gastro Obscura discovered that the tradition goes back even further than that: "An 1882 magazine story described a nearly identical lemon pig, and newspapers in the 1890s instructed readers how to make them." There are even YouTube videos that show how to make a lemon pig, which seems simple enough as long as you're as adept with a knife and a lemon as Blake Lively's Emily is in A Simple Favor. But we're hoping for lots of luck in the new year, and the loss of a lemon, a coin, and a few cloves seems like a small price to pay. [Gwen Ihnat]