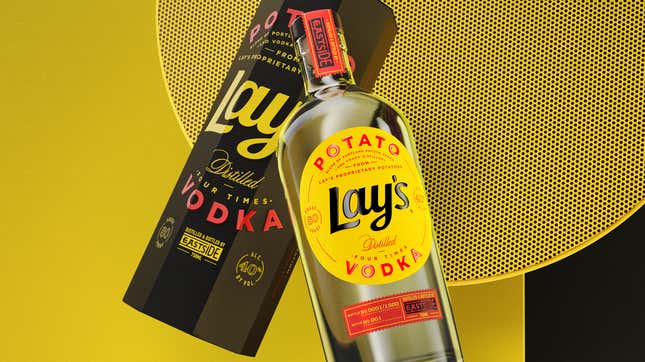 Step aside, Arby's—the real potato experts are taking a stab at vodka. Perhaps in an effort to one-up any fast food joint that dares to step into its territory, Frito-Lay has just released a vodka created with its proprietary potatoes, reports Food and Wine.
How To Dispose Of Cooking Grease The Easy Way After Frying
The potato chip brand partnered with Eastside Distilling, a company based in Portland, Oregon. The vodka is a blend of "Portland Potato Vodka and vodka distilled from Lay's proprietary potatoes for a crisp, clean finish," according to the company's website. The 750ml bottle is available for purchase on the site and is selling for $40. I give points for packaging as well, because the black box the bottle comes in and the logo on the bottle both look so clean. If I saw it in a store, I wouldn't even know it was from a potato chip brand.
As mentioned above, Arby's also released a vodka recently, and the staff at The Takeout had the opportunity to taste it. We also brought in Brendan Kelly, lead singer of punk rock band The Lawrence Arms, former Onion Inc. colleague, and creator of the popular Nihilist Arby's Twitter account, to join us in the taste test. Kelly, like The Takeout staff, was less than impressed with Arby's two flavors of vodka, flavored to mimic the the brand's two french fry offerings.
As for Frito-Lay's limited-edition spirit, I have to say I'm much more optimistic about it. Vodka is not my alcohol of choice, but if I had to have some I would go with the one from the people who specialize in potatoes. I also give Lay's credit for keeping it simple with this release. The vodka itself has no other flavor to it, which I think will fare better than Arby's two high-concept attempts.