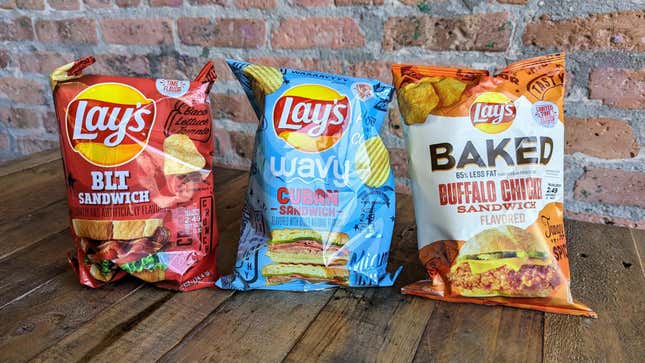 Lay's, known for taking big swings, has just released three new sandwich-inspired potato chip flavors, all of which are available nationwide for a limited time: BLT Sandwich, Cuban Sandwich, and Buffalo Chicken Sandwich. We're big fans of novelty chip flavors here at The Takeout, so tasting these newest creations was virtually mandatory.
All the Best Finds at the Sweets & Snacks Expo
The lineup wisely starts with three universally beloved sandwiches. A BLT screams summer, a Cubano is a satisfying classic, and a buffalo chicken sandwich is usually what I order at a bar if I'm not in the mood for a burger. So I didn't go in favoring any flavor over the other; each of these sandwiches has a time and place in my life. As chip flavors, however, the rankings soon became clear.
3rd place: Lay's BLT Sandwich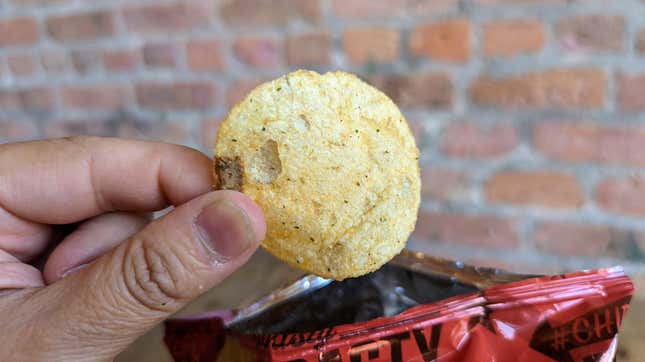 The BLT Sandwich flavor is featured on my favorite style of Lay's, which is the classic thin version. I consider Lay's plain potato chip the leader in this grocery category—they're salty, snackable, and deeply potato-flavored. How could they not be improved with a little BLT flavor?
So here's the thing about these chips: It's not that they're bad. It's just that they don't have too much flavor aside from a touch of lingering bacon-like smoke and a little bit of tartness, which I presume is the "tomato" flavor peeking out. Otherwise, they don't really carry much distinction (how would you even try to represent lettuce?), and the whole chip reads as mildly boring. On the other hand, any snack chip's attempt at subtlety is likely to be drowned out by the current trend of over-the-top flavors.
The chip itself is still your usual high-quality Lay's, at least, which shatters easily with each bite. 
2nd place: Baked Lay's Buffalo Chicken Sandwich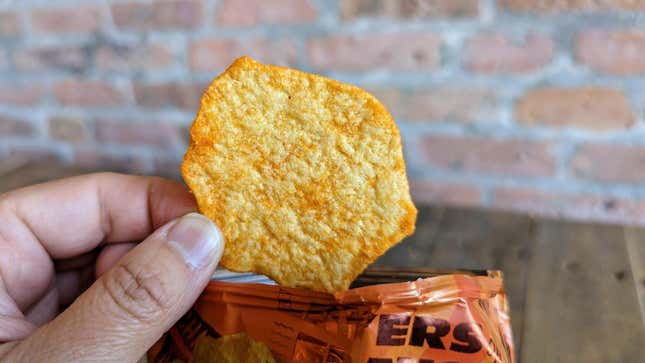 You might scoff at the whole "baked" part of Baked Lay's, but if you treat them sort of like flavored crackers, they make a little more sense.
I'm happy to report that these chips are pretty great. They have a good snap and crunch, and the buffalo flavor comes through front and center. I couldn't quite get a read on any chicken flavor, but chicken powder is in fact listed in the ingredients. If you're a super-taster, you might catch a hint of poultry in there.
That being said, it's a standard-issue Buffalo flavor (the package indicates that there's cheddar cheese in it, but that's hard to detect), meaning the chip is pretty straightforward rather than adventurous. It should scratch that very specific itch you can only experience from a tangy hot sauce.
1st place: Lay's Wavy Cuban Sandwich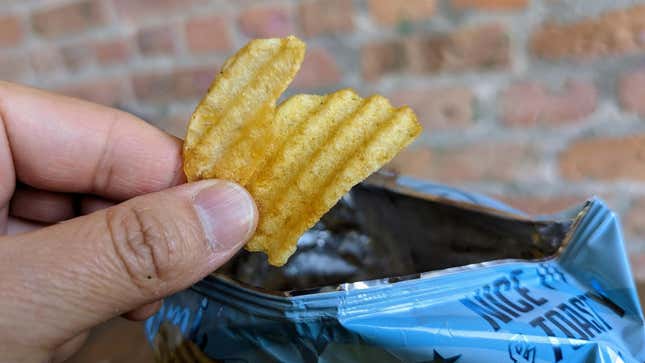 The Cuban Sandwich chips won by a mile. Though you can't tell from the photo above, the seasoning on these chips lends a pretty bold dill flavor to represent the pickles on a Cuban, and there's even a yellow mustard note that's easy to detect. Swiss cheese powder is included in the seasoning, and though that's not a flavor that creeps through much, I appreciate the attention to detail here.
Of course, being inspired by a Cubano, this chip also has to taste like pork products, specifically ham and roasted pork loin. Those flavors don't really make much of an appearance, as far as I can tell. But in fact, the lack of a porky note might be doing these chips a big favor, since that would likely come off tasting synthetic (or sometimes downright chemical).
Since the Cuban Sandwich chips are thick and wavy, they're the most substantial of the bunch, and the seasoning clings to the additional surface area. A bag of these makes for a crushable snack to munch on in front of the TV or at a picnic.  All in all, it's a chip worth experiencing once during its seasonal run, and it's definitely the bag I'd reach for at the grocery store.