Last Call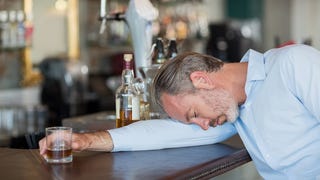 Last Call
Last Call is The Takeout's online watering hole where you can chat, share recipes, and use the comment section as an open thread. Here's what we've been reading/watching/listening around the office today.
---
Enjoy a double dose of FKA Twigs
You guys, this Gizmodo post about the new FKA Twigs-starring, Spike Jonze-directed ad for Apple HomePod is freaking me out! The ad works as an incredible short film, as FKA Twigs comes home from her totally gray life, asks Siri to turn on some music, and soon discovers that she can amazingly transform her entire apartment, opening it up into a vividly colored world of bold and vibrant stripes. When a mirror shows up, she tries to push it away, until her mirror image self beckons her in. Once that happens, the two Twigs do some amazing dancing, and then spin around, until it looks like the mirror image leaves the original version in the darkness and then takes over the original apartment! Right? I'm so freaked out. And yet, can not stop watching. [Gwen Ihnat]
Note: Gizmodo, like The Takeout, is owned by Univision Communications.
---
Watch this man become a pizza
Gwen's been absorbed in the above visually stunning, lushly artistic FKA Twigs/Apple video; meanwhile, I can't figure out why I spent 3 minutes of my life watching a man get turned into a human pizza. Thank god tomorrow's Friday. [Kate Bernot]