Last Call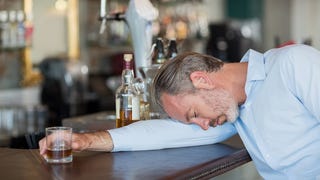 Last Call
Last Call is The Takeout's online watering hole where you can chat, share recipes, and use the comment section as an open thread. Here's what we've been reading/watching/listening around the office today.
---
Tofu booze
Further proving that we as a human species are meant to get drunk, researchers from the Food Science & Technology Programme at the National University of Singapore have discovered a new way to get tipsy while improving the environment: tofu! Atlas Obscura reports that the "tofu whey" left behind when soy milk coagulates into tofu curds can ferment and be transformed into delicious booze researchers are calling "Sachi." It's about 7 to 8 percent ABV and is apparently more delicious than it sounds. Plus, turning this whey into booze prevents it from clogging waterways. Win/win. [Jen Sabella]

---
Robert Macfarlane on Twitter
I immensely enjoy Robert Macfarlane's Twitter feed, especially as I become more starved for hikes and sunny skies during the winter. MacFarlane is an author, naturalist, and linguistic enthusiast who illuminates the expressive placewords unique to various languages. If you're a word nerd and an outdoors person, his Twitter feed (and books) are a treasure trove. He's lately been posting a word of the day on Twitter, which makes for a lovely mini nature break when I'm sick of screens and scrolling.
---
Helcomb County Municipal Lake Dredge Appraisal
I grew up as an obsessive reader of The Onion, so sometimes I still pinch myself as I walk into the hallowed offices of America's Finest News Source. Recently I discovered this video series called Helcomb County Municipal Lake Dredge Appraisal, a spot-on lowcountry parody of Antiques Roadshow. I won't ruin the fun. [Kevin Pang]
G/O Media may get a commission