Last Call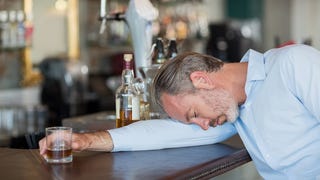 Last Call
Last Call is The Takeout's online watering hole where you can chat, share recipes, and use the comment section as an open thread. Here's what we've been reading/watching/listening around the office today.
The definitive soundtrack to a relationship
If there is an album that was the soundtrack for the courtship of my husband and myself, it is Rufus Wainwright's Poses. In those blissful, carefree, mortgage-free, and kid-free days, we would get together every Sunday to read the Trib while listening to this album on repeat. I was so besotted that I listened to it incessantly all the other days of the week as well. Lyrics like "all the sights of Paris pale inside your iris" almost perfectly described up my newly soaring heart.
I don't know why Rufus Wainwright is doing a Poses tour in 2018, not a definitive anniversary year for an album that came out in 2001. Maybe he just felt like it. Whatever the reason, I am grateful, and can't wait to hear it live on a date tonight (sitter is already booked). Things are whole lot different now than they were for my husband and me, but every time I listen to Poses, I can still picture my ratty old purple couch, the Arts & Leisure section, and two happy, contented people on the brink of a great adventure, though they hardly could have imagined it at the time. [Gwen Ihnat]

---
Road-tripping to Modest Mouse
This year's Thanksgiving plans involved driving from my home in Missoula, Montana, to just north of Denver, Colorado, a trip that should have taken 12 hours but instead took more than 15 last weekend. (Screw you, Wyoming blizzards!) For an unknown reason—I guess we both just like the album—my boyfriend and I always listen to Modest Mouse's Good News For People Who Love Bad News on road trips. By hour six of driving through middle-of-nowhere Wyoming in near white-out conditions, I was actually blaming it on the Tetons. [Kate Bernot]