Last Call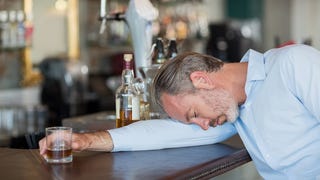 Last Call
Last Call is The Takeout's online watering hole where you can chat, share recipes, and use the comment section as an open thread. Here's what we've been reading/watching/listening around the office today.
Truffle prices "drop"
White truffle prices have dropped, The Wall Street Journal gleefully reports, though you should still probably own a yacht if you're going to eat more than a finger nail-sized piece of one. "A 10-gram grating at New York's Del Posto restaurant will now set you back a mere $190, down from $240 last year," the paper states, in an article has absolutely no bearing on my life because I am going to leftover soup for dinner tonight. [Kate Bernot]
---
A "Baby, It's Cold Outside" replacement
News recently spread that a Cleveland radio station has banned the Frank Loesser song "Baby, It's Cold Outside" from its holiday playlist, calling it out as inappropriate in the #MeToo era. Loesser (as a high school drama rat, I loved his musical Guys & Dolls) wrote it in 1944 for his wife and himself to perform at parties as a signal for everyone to go home. I think in their version, she was the "wolf," and he the person being convinced to stick around a bit longer. I was a fan of that song since I was a kid and saw it in the Esther Williams movie Neptune's Daughter, because I loved the overlaying call-and-response verses. But I completely get that some of the song's lyrics really haven't aged well ("Say, what's in this drink?").
Fortunately, Loesser has another, less controversial song for the season. In "What Are You Doing New Year's Eve?", the besotted singer tries to get a date on the biggest night of the year: "maybe I'm crazy to suppose / that I would be the one you chose / out of the thousand invitations you'll receive." There are a ton of amazing versions (Rufus Wainwright debuted his on a Gap commercial), but I'm partial toward this ukulele duet between Zooey Deschanel and Joseph Gordon-Levitt from a few years back. Yep, I was a fan of "Baby, It's Cold Outside" and I'm pushing a Zooey Deschanel ukulele song: Happy holidays, everybody. [Gwen Ihnat]