Consider this sitcom costume for your helpless child
Parents of babies: Listen up. Now is your chance to dress that cute infant up as any costume you like, before the kids get old enough to realize what's going on and develop their own opinions. Take it from me, a middle-school parent of a ninja and a jellyfish this year, when I would much prefer an adorable Wayne and Garth. You can still get really creative, as shown in this Instagram post shared by none other than Jenna Fischer, Pam from The Office.
Okay, this is not a real costume, instead created by appropriately named Instagrammer @adam.the.creator, inspired of course by accountant Kevin dumping over a pot of chili in the season five Office episode "Casual Friday." Adam has also conjured up costumes like baby "billionaire stoner" and "sick pups" costumes for dogs, but the Kevin is the best by far.
So, all you would need: a little brown baby suit, a tiny skull cap with hair, a small pan, some canned chili. If your baby is like most babies, they're going to knock it over anyway. You should try it! It'll be so much more fun than when your options narrow a few years from now and the only costumes you can coax the kids into are "cat" and "knight." Or worse: "Dora" and "Deadpool." [Gwen Ihnat]
---
Behold, the fattest bear of the Fat Bear contest
G/O Media may get a commission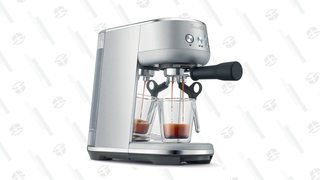 20% off
Breville Bambino Espresso Machine
My brother emailed me this Buzzfeed article about the winner of Fat Bear Week with the subject line: "Have you heard of this?" Broham, do you not know me? Of course I have been following—and voting on—Katmai National Park's 2018 Fat Bear Week contest, which encourages people to choose which brown bear in the park has becomes the plumpest in preparation for hibernation. Park officials don't actually weight the bears; this is all just based on before-and-after pictures. It's like a nice, reverse version of those terrible "look at these celebrities' butts now!" tabloid covers. Oh, and Bear 409 (named Beadnose) won for the second year. Happy hibernating, Beadnose. [Kate Bernot]