Last Call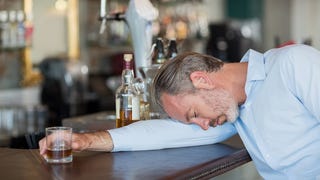 Last Call
Last Call is The Takeout's online watering hole where you can chat, share recipes, and use the comment section as an open thread. Here's what we've been reading/watching/listening around the office today.
---
Americans warm up to poetry
The National Endowment for the Arts announced earlier this month that its annual Survey of Public Participation in the Arts shows more American adults are reading poetry than at any other time in the survey's 15-year history (a whopping 12 percent!). Pacific Standard digs into the reasons why, noting that movements like Black Lives Matter have included poetry in their messaging. The article also includes a wonderful nod to what Jane Hirschfield told the New York Times last year: "When poetry is a backwater, it means times are OK. When times are dire, that's exactly when poetry is needed." P.S.: I just read Sharon Olds' Stags Leap and highly recommend it. [Kate Bernot]
---
Don't forget to floss
EXCITING NEWS: I got my teeth cleaned today. I have been going to visit the same dentist in his downtown office since a co-worker friend referred me four or five jobs ago. This time was the fun "You need a whole set of new X-rays, don't worry we only have to take 18 exceedingly painful slides" visit, along with the "wow, I really should try get my teeth cleaned every six-month-appointment" reminder. This time I was a few months late, and I had to spend a lot of time in the chair, let's put it that way.

Then the hygienist took off for a well-deserved break and my dentist of many years sat down for his annual look at my teeth. He said, "Hey what's going on?" I said, "I don't floss enough." He sighed and said, "Well, at least you're consistent, I'll say that for you." Top-grade dental shade. I said, "Ouch, man," but also, "true."
G/O Media may get a commission
Now that I've outed myself to all of you as a person with newly cleaned teeth but lacking dental habits, learn from my hideous example, as I swore to the hygienist, the dentist, and the entire dental office staff that I would do before my next cleaning: Don't forget to floss. Every day. I may even try for twice a day and see how that goes for a new half-year resolution. Future me is already grateful for her much shorter checkup appointment in January 2019.