Last Call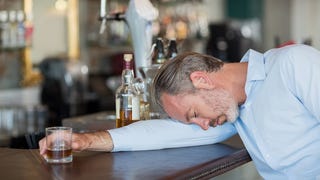 Last Call
Last Call is The Takeout's online watering hole where you can chat, share recipes, and use the comment section as an open thread. Here's what we've been reading/watching/listening around the office today.
My favorite new Instagram follow: @storeboughtisfine
I became aware of the Instagram account @storeboughtisfine when my friend Melissa, a fellow Ina Garten enthusiast, sent me a link, complete with heart-eye emoji. The man behind the account, Trent Pheifer, lives in New York City and is on a mission to cook every single one of Ina Garten's approximately 1,200 recipes, documenting them on Instagram as he goes. (Its name is an homage to one of Ina's favorite phrases.) If you're a fellow Barefoot fan, give Pheifer's account a follow and read his Q&A with The Kitchn. How easy is that? [Kate Bernot]
---
A perfect winter lipstick
This time of year I feel like I'm about to crumble into dust at any moment. I am so unbelievably dry, I spend a ton of time (and $$) on product just to moisturize myself. So I'm sorry to say that Chapstick or drugstore lipstick just isn't going to do it for my pale January pucker.

So I dry-cough up a few more dollars for Aveda lipstick in wintertime, and it's totally worth it. The company recently revamped its Feed My Lips pure Nourish-Mint lipstick, and the results are remarkable. Aveda lipstick always smelled nice and minty, but now it's augmented with not only peppermint, but vanilla and ginger. The case is now sturdier, and the colors are sumptuous; most days I gravitate toward Mulberry ("a rosy pink with light shimmer") but the browns are always flattering as well. Best of all, the fruit-butter base is so creamy, I don't have to worry about dry lips for hours. I know it seems pricy, but $24 just doesn't seem like a lot to pay for something that makes me so happy every single day. [Gwen Ihnat]
G/O Media may get a commission
Bra Bearies Strawberry CBD Gummies