Last Call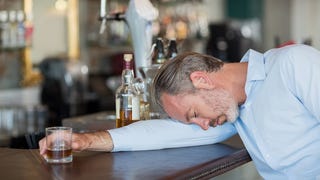 Last Call
Last Call is The Takeout's online watering hole where you can chat, share recipes, and use the comment section as an open thread. Here's what we've been reading/watching/listening around the office today.
---
Synonyms for sloshed
As a beer/booze writer, I sometimes run out of words to say drunk, buzzed, sloshed, etc. Thanks, Merriam-Webster, for adding some new vocab to my roster. [Kate Bernot]

---
How do you get rid of a mouse?
Takeout readers, since you are all so smart about everything from lime in curries to how to make the perfect mocktail, I turn to you. We have a mouse in our house, which is about the worst thing in my life right now. So I guess you can say overall I'm really lucky, but the mouse is driving me as crazy as Nathan Lane in Mouse Hunt. We had an exterminator come in and put in boxes, and have set up traps on what we think is the mouse's path with Nutella on crackers. Do any of you have any further mouse-trapping tips? Short of getting a cat, what should be next on my list? [Gwen Ihnat]