Last Call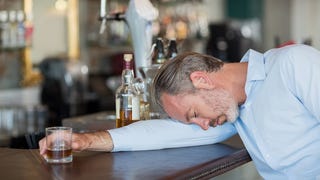 Last Call
Last Call is The Takeout's online watering hole where you can chat, share recipes, and use the comment section as an open thread. Here's what we've been reading/watching/listening around the office today.
---
Binging With Babish tackles Gina's post-diet sandwich feast
Like most people, we were stunned to hear the news today that Fox cancelled delightful workplace sitcom Brooklyn Nine-Nine. Fortunately, we found some slight solace in this YouTube video. Binging With Babish features videos on how to make all sorts of pop-culture food, like the Il Tampino from Big Night and Flanders' hot chocolate from The Simpsons. So we were happy to see a video for the Sloppy Jessica, which was the sandwich that Gina ended her diet with on the 20th episode of the show. It contains pizza, mac-and-cheese, and chili, all in the same sandwich, and was still likely a better option than Jake's breakfast burrito with gummy bears.
Host Andrew Rea savvily makes pizza bread as a base, then mixes the mac-and-cheese and chili to create chili mac, to keep the sandwich from getting too cumbersome. He even uses ziti noodles instead of round ones, like Gina does on the show. Rea then serves the considerable (and apparently delicious) sandwich to his friends, commenting, "Serving this sandwich is one way you can be a good and a bad friend all at the same time." We'll have to give it a try for our next B-99 binge-watch as we lament the too-early demise of this wonderful series. [Gwen Ihnat]
---
"Acrobat" from U2's Achtung Baby
I have a lot of opinions on U2, from the very positive to the very negative. Because of their latest album, which I hated, I've decided to skip my first U2 tour since 2001. There is one thing I'm bummed to be missing—U2's decision to perform a song they've never done live, "Acrobat" from their seminal Achtung Baby. The 2018 live versions of "Acrobat" have been rip-roaring to date, but you can't top the original studio version. [Kevin Pang]
---
Let's talk about how good vinho verde is
G/O Media may get a commission
I'll probably gush about this refreshing, citrusy Portuguese white wine a few more times this summer, but let's start now, while the weather's just warming up. I'm heading to a friend's house for dinner tonight—fish tacos, yesssss—and I happened to find a vinho verde on sale for $3.99 at my grocery store. (Today is looking good, guys.) But while I might side-eye a $4 bottle of red, vinho verde is generally an affordable bottle that I wouldn't pay more than $10 for. Anyway, cheers to this delightful, crisp wine that's just coming into season. [Kate Bernot]
---