Last Call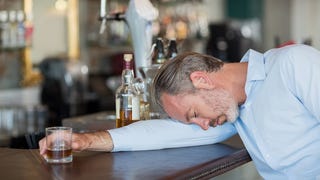 Last Call
Last Call is The Takeout's online watering hole where you can chat, share recipes, and use the comment section as an open thread. Here's what we've been reading/watching/listening around the office today.
---
Firefighters make a pizza delivery
My friend Lisa recently pointed out that firefighters are one of the last universally beloved professions. Lawyers, politicians, journalists... plenty of people have mixed feelings about those jobs, but firefighters? Still in our collective good graces. Anyway, that's because their primary job is literally saving our asses, as well as those of cats trapped in trees. Add 'emergency pizza delivery' to the list of reasons firefighters are awesome: A fire crew in Henrietta, New York, recently responded to a car accident in which one of the vehicles was en route to a pizza delivery. After tending to medical needs, the firefighters grabbed that pie and delivered it themselves. Even if it's cold by that point, I'm impressed at their dedication. [Kate Bernot]
---
Watch Set It Up on Netflix
It's summer, when there's very little new stuff on TV, and the movie theaters are filled with remakes, sequels, or remakes of sequels. And personally, I haven't discovered a new rom-com to love since Crazy, Stupid, Love in 2011. So when buzz starting building about the new Netflix movie Set It Up, I cleared my next laundry-folding viewing schedule (what an exciting life I lead!) to check it out. And was not disappointed: The story of two overworked assistants (think Devil Wears Prada times two) who set up their bosses so they can get their own lives back is original enough to transcend most cookie-cutter movie romances. And leads Zoey Deutch and Glen Powell are steeped in what most rom-com movies pray for: an undeniable cinematic chemistry that makes everything they do pretty dang adorable. And it's on Netflix, so there's no telling how many times I will watch it this summer. Next time, I'm ditching the laundry and making it a girls' night.