Last Call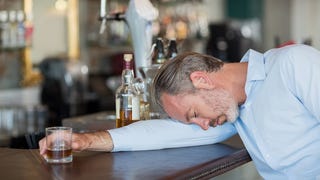 Last Call
Last Call is The Takeout's online watering hole where you can chat, share recipes, and use the comment section as an open thread. Here's what we've been reading/watching/listening around the office today.
Fandom Files: Chuck E. Cheese's convention
Syfy's Fandom Files podcast interviews people who are hardcore geeks about certain subjects: Star Wars, comic books, Pokemon drag queens, you name it. The latest episode, though, brings us news of a Chuck E. Cheese's convention for grown ups, which last year garnered a whopping 65 attendees over two days in Dallas. Its founder, Matt Rivera, has worked for the chain since he was 16. [Kate Bernot]
---
You can't fight the fall fest at Trader Joe's, so why even try?
There is no more over-the-top month of the year at Trader Joe's than October. You go in for a few frozen things from book club, you walk out with pumpkin body butter and something called a cinnamon broom. My son and I stopped by there today and were quickly (figuratively) pummeled by a variety of gourds and an assortment of spice cookies. I consider it a personal victory that I walked out of there with 2/3rds of my items NOT autumnal-related. But, we caved a lot of the time.
Case in point: Trader Joe's Apple Cider Jam. Sure, I thought, it's probably just like apple butter. And yet… once we opened it up and put it on a toasted English muffin with butter, it was like a pie in a jar. Lovely spice scented, with a slightly firm consistency that gave it more heft than apple butter. Would also do well on waffles, pancakes, or straight into my mouth.
G/O Media may get a commission
Yeah, December's just around the corner with its peppermint and eggnog offerings, but I intend to wallow in this apple/pumpkin month as much as I can. I consider Trader Joe's the best place to get necessary supplies for that. [Gwen Ihnat]