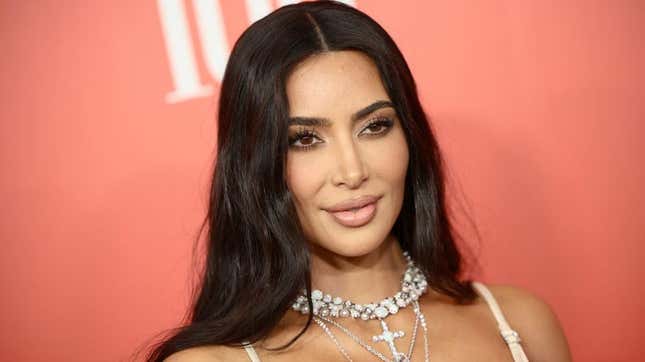 I was one of those college art students who religiously drank a large Dunkin' iced coffee, smoked half a pack of Marlboro Reds, didn't eat all day, and then wondered why I had crippling anxiety. Once I learned the error of my ways, I cut back on my caffeine habit, but still had coffee nearly every day. In New York, "getting coffee" is as habitual as "taking the train" or "going to a rave in an abandoned glass factory." But even die-hard caffeine enthusiasts might balk at the latest product to be endorsed by Kim Kardashian.
How To Dispose Of Cooking Grease The Easy Way After Frying
If you thought Kim Kardashian had already put her name on everything, think again. Collaborating with wellness brand Alani Nu, the Skims founder will now have a limited-edition energy drink to call her own. Launching today, Kimade is, according to its press release, a "delightfully refreshing" strawberry lemonade flavored canned beverage. It's sugar-free, vegan, and gluten-free (is there any energy drink on the market right now that isn't bragging about being vegan and gluten-free?). And like Logan Paul's Prime energy drink, it contains 200mg of caffeine per 12-oz can.
In case your brain has already dispensed of this information, a quick refresher: YouTube star Logan Paul recently came under fire for his new(ish) energy drink, Prime. Targeted at Paul's loyal audience of young fans, the beverage contains 200mg of caffeine in a 12-oz can—more than both Red Bull and Monster energy drinks. It's caused enough concern that Senator Chuck Schumer is even trying to get the FDA involved.
"Many physicians have serious concern for Prime, and I write to specifically urge your agency to investigate Prime for its claims, marketing and caffeine content," the senator wrote in a letter to the FDA commissioner obtained by CNBC.

Well, Schumer might soon be setting his sights on another celebrity for the same reason—one who has even spoken at the White House.
For somebody with as busy a schedule as Kim Kardashian, I suppose that so much caffeine is necessary. She says she wakes up at 5:45 a.m. every day, and as anyone who's watched The Kardashians knows, she's always on the go. Still, 200mg of caffeine is a lot of fucking caffeine, and very few of us keep the regimented schedule of a billionaire mogul.
The difference between Kimade and Prime—and why I think Kimade will evade scrutiny—is the marketing. Logan Paul's primary audience is kids, whereas Kim Kardashian's target demographic is apparently thirtysomething women who work in project management and do Pilates. Which is a good thing, because Pilates sounds like a great way to come down after a busy day of vibrating uncontrollably. Perhaps Kim could launch a series of virtual Pilates classes in the name of vertical integration.

I have my own caffeine habit somewhat in check these days. There's nothing more pleasing to me than a cup of iced coffee on a hot summer morning. But now, I make my own cold brew and drink just a teeny bit before getting on with my day. I've even cut back on taking my pre-workout supplement, which contains 150mg of caffeine—almost as much as a 16-oz cold brew. So I don't think I'm the intended audience for Kimade or Prime, and I'm certainly not mad about it.