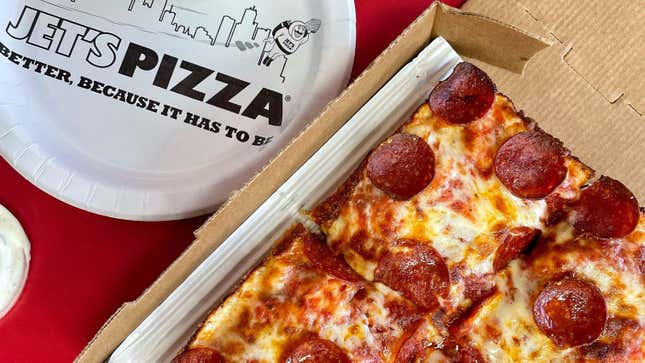 I'm a big fan of Detroit-style pizza for its puffy, airy crust, but I especially covet its caramelized, cheese-lined edges. The corners provide the best bite, with their darkened cheese adding a extra-savory finishing note at the end. However, there aren't many national chains that sell Detroit-style at the moment. The biggest one is Little Caesars, but the best one is Jet's Pizza.
How To Dispose Of Cooking Grease The Easy Way After Frying
The thing is, Jet's is not cheap. A three-topping 8 Corner Pizza runs just over $32 at my nearest Jet's location, and when I live just as close to Little Caesars and its three-meat pizza for $12, well, you do the math. I love you, Jet's, but ouch.

But there's hope for all the Jet's fans out there: In honor of Jet's 45th anniversary, it has announced a pizza discount that might be its best deal ever. It's not some petty 10% off coupon or free drink with purchase. This promotion might spur me to order multiple Jet's pizzas for dinner next week.
Jet's 45th anniversary deal, explained
Jet's 45th anniversary deal gets you 45% off all 4 Corner and 8 Corner Pizzas, which is pretty damn good. That means my large $32 pizza now costs $17.60—a discount of more than $14. Now we're talking.
The promotion runs August 21-27 at participating Jet's locations. It's an online-only discount, so you can't apply it by ordering in-store at the counter—instead, go to the website and apply coupon code ANV45 at checkout.
If you've never tried Detroit-style pizza, consider this your sign from above that you need to change that.
What are Jet's 4 Corner and 8 Corner pizzas?
If you're not a Detroit-style aficionado, you might be wondering what the 4 Corner and 8 Corner Pizza thing refers to. The corner slices of Detroit-style pizzas are the absolute best, since you get two cheese-lined sides as a reward for chowing down on an already great pizza.
In order to engineer a pizza where all slices are corners, Jet's has square steel pans, and each of those pies is cut into four pieces—hence, all corners. The 4 Corner is simply a pizza baked in one of those pans, while an 8 Corner order is two of those pizzas tucked into one big box. Just think of a 4 Corner as a small, and an 8 Corner as a large.
I'd say jump on this discount, especially if you're new to the style. Sure, it's fast food pizza, and isn't necessarily going to be as good as a hand-crafted artisan one, but the 45% discount brings it down to a price point where anyone can satisfy their curiosity. Pro tip: Get the Turbo crust. It sounds ridiculous, but just trust me on this one.