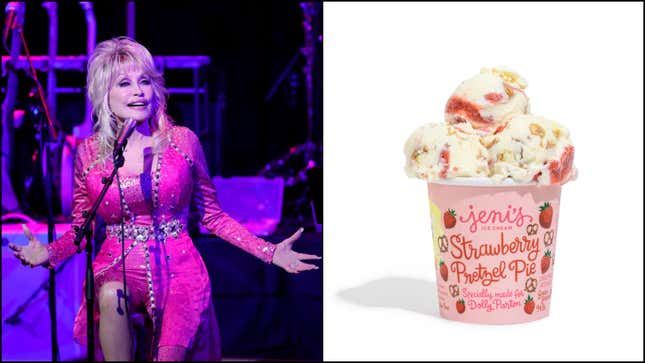 Update, January 19, 2022: If you missed out on Strawberry Pretzel Pie during last year's frenzy, we've got splendid news: Jeni's has once again joined forces with Certified Angel Dolly Parton to bring back Parton's limited-edition flavor, Strawberry Pretzel Pie, made with layers of salty pretzel streusel, cream cheese ice cream, and strawberry sauce.

How To Dispose Of Cooking Grease The Easy Way After Frying
Per a press release sent to The Takeout, the re-release is a promotion for Run, Rose, Run, Parton's upcoming book and companion album. Parton will even release a bonus track available exclusively on Jenis.com. Unlike last year, there are slightly more pints to go around—but there's a limited quantity available for pre-order, ("We anticipate the flavor to go quickly," a brand rep told The Takeout), so act fast and order here if you're interested. If you manage to score a pint, they'll ship out in April.
Update, April 15, 2021: Oyez! Oyez! Oyez! Get your refresh finger ready! Jeni's is trying online sales again today, April 15, at noon EDT. May the odds be ever in your favor.
Update, April 12, 2021, 11:45 AM: As of this morning, Jeni's still hasn't rolled out online sales for the flavor. The brand writes:
"We have been working around the clock so that we can confidently drop the flavor … but we aren't there yet. As promised, we'll give 48-hour notice via email and social media before we release the flavor, but we wanted to let you know that it won't be this weekend. Thank you, again, for your patience!"
As one might expect, some lucky Jeni's patrons are now hawking their hard-won pints on eBay—some for as high as $1,000, TMZ reports. We tracked down one of the high-priced pints, and it has the following description: "Jeni's Dolly Parton Strawberry Pretzel Pie Ice Cream. Condition is 'New.' 80% of this sale will be donated to Dolly Parton's Imagination Library. Local pickup available, OR sealed, shipped next day with dry ice." Seems a little hasty to drop a grand on this one when online sales haven't even begun. Of course, you could also spend $35 on one of the collaboration posters Jeni's is handing out... for free.
Update, April 8, 2021, 9:07 PM: Jeni's updated its social media accounts this evening apologizing again for the botched rollout.
"Our site had 50 times more users than it sees on average. We had planned and tested for this level of traffic and expected our site to be able to handle it," the company explained via Twitter. "When the site went down, we had confidence it would be back up quickly. We never imagined it would take as long as it did. All of our resources were focused on getting this fixed and we wish we would have gotten an update out to you sooner."
Meanwhile, early reports are in on how it tastes from folks lucky enough to grab pints at their local scoop shops.
There are still pints available, and we'll be able to try to order them again... eventually. Jeni's promises to provide 48 hours' notice so you can prepare once again for the website vigil. May the odds be ever in your favor.
Update, April 8, 2021: I know some of you ice cream lovers out there probably already had this marked on your calendars, but for the rest of you, this is a reminder that Strawberry Pretzel Pie, a collaboration between Jeni's Splendid Ice and Dolly Parton, was released today at noon on the Jeni's website and in Jeni's scoop shops and nowhere else.
Earlier this week, Jeni's sent out a mass email warning fans that only 10,000 pints of the Dolly ice cream were being produced. The email recommended that the faithful line up outside their local scoop shops or log into the website at the stroke of noon. And, no, no one will hold a pint for you, no matter how special you are or even if you can hit the high note in "I Will Always Love You."
So I dutifully logged in and clicked on that sweet, sweet pint of Strawberry Pretzel Pie. Almost immediately the site crashed. But I have been conditioned from several weeks of attempting to line up a COVID vaccine shot. I have patience. I am quick on the draw with the refresh button.
It turns out that you need to order four pints before Jeni's will deliver. I learned that after I managed to get Strawberry Pretzel Pie in my cart. And then I learned that the website will crash whenever you try to order something that isn't Strawberry Pretzel Pie. Now I am waiting for it to take my money. Will I have to put on pants and go out to the store? (The nearest one happens to be located across the street from a vaccine site.) Stay tuned!
Original post, March 26, 2021: Exhausted from working nine to five? Need to drown your sorrows after some auburn-haired wench named Jolene took your man? Look no further than the new collab between Jeni's Splendid Ice Creams and Dolly Parton: Strawberry Pretzel Pie.
Although the collaboration was vaguely announced early this month, Parton officially spilled the beans via social media earlier this week. "I've teamed up with @JenisIceCreams to create my very own flavor in support of @imaginationlibrary! Strawberry Pretzel Pie is available at Jeni's April 8," Parton tweeted. Per the Jeni's website, the flavor is an "ode to the Queen of Country" and "a throwback to the triple-decker pie from the potlucks of our youths."
The new flavor will feature "layers of salty pretzel streusel, subtly sweet and effortlessly tangy cream cheese ice cream, and lipstick red strawberry sauce." Basically, it's everyone's sweetest Midwestern/Southern/Ozarkian aunt in a cardboard pint. The brand writes in a release:
"Dolly Parton is the person we all want to be when we grow up: An unstoppable force for good with the power to bring people together. Strawberry Pretzel Pie is our ode to the Queen of Country and a throwback to the triple decker pie from the potlucks of our youths."
Making things even sweeter, proceeds from the flavor will benefit Dolly's Imagination Library, a book gifting program that gives free books to children from birth to age five. Dolly, we will always love you.