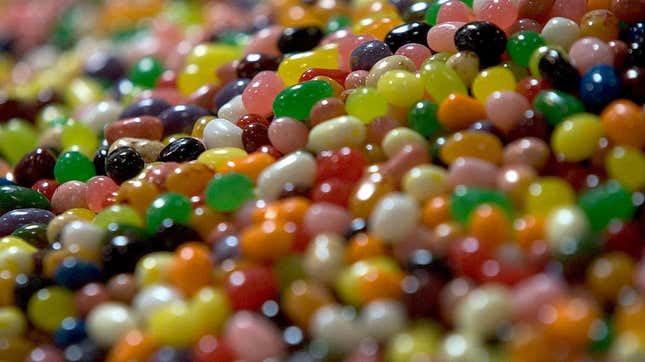 Fellow staff writer Dennis Lee and I joined The Takeout in October, so we've never met in person. Actually, I've only met one member of my work team in person. I know the rest as disembodied shoulders, necks, and heads, experienced solely through our bi-weekly video chats. Do they even have lower torsos? I'm not sure. In fact, if they each lowered their cameras to reveal mermaid fins instead of legs, I doubt I'd bat an eye. But if one of them inexplicably invited a large, silent, omniscient jelly bean into our video meetings, that might be cause for concern. This is the crux of a new promotion from Jelly Belly, as indicated by a press release sent to The Takeout.
How To Dispose Of Cooking Grease The Easy Way After Frying
In celebration of National Jelly Bean Day on April 22, Jelly Belly will help you digitally confuse/beguile/terrify your coworkers with a Zoom cameo from Mr. Jelly Belly himself. Who is Mr. Jelly Belly, you ask? Why, he's an enormous red bean with unblinking eyes and a taut smile—and he's volunteered to join one lucky company's virtual meeting. He does not speak, but he will provide the winning company with a year's supply of Jelly Belly jelly beans. The brand writes:
"As many are missing the benefits of a shared office environment—from in-person collaboration to swinging by the beloved office candy jar for a quick break— Jelly Belly is finding a new way for co-workers to share a smile and a treat virtually."
If you'd like to coordinate a visit from the monstrous bean, enter Jelly Belly's sweepstakes to win. "In full disclosure, Mr. Jelly Belly is a bit shy, so don't expect him to talk, present a PowerPoint or take notes on this meeting," jokes Rob Swaigen, Jelly Belly's vice president of global marketing. He might be uncannily silent, but rest assured: Mr. Jelly Belly sees all.