Umami Issues is The Takeout's exploration of cooking food with the rich, savory, mysterious taste sensation known as umami. 
We Taste Kazbars, the New Hostess Snack Cake With Crunch
I've turned my back on plain ol' beef stew, and even on red-wine braised beef stew. Something better has come along, and I'm afraid I can no longer spend time with those dullards. Like a blizzard of cherry blossoms, Japanese stewed beef is simple but deeply magical.

Inspired by a recipe by Rika Yukimasa on the NHK show Dining with the Chef, Japanese stewed beef is a rather uninspiring name that belies its deliciousness. The flavors are both familiar (tomato-based) and unique (sweet-and-savory from the honey, sake, miso, and soy sauce). I was first intrigued by the streamlined cooking method. The beef is placed in the pot, sauce poured over and lid clamped on. I love that you do not have to season, flour and sear the beef in endless batches that spit beef fat onto your wrists.
I may have been drawn to the recipe for the ease of cooking, but the sauce... oh, I didn't think the sauce would be so memorable. It's more fortified than standard beef stew sauce, and less acidic than red wine-based stews. The combination of sake, miso, tomato paste, and soy sauce has an umami-rich allure. The saltiness is balanced with the mirepoix, the touch of honey, and sugar. This smells so heavenly while cooking, I find I keep waltzing by the stove just to inhale the boozy-savory vapors.
G/O Media may get a commission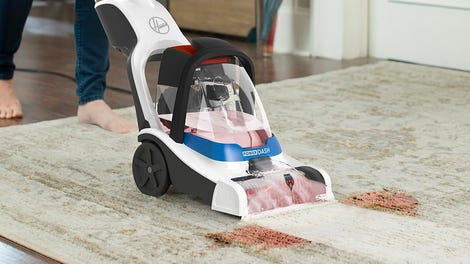 26% Off
Hoover PowerDash Pet Compact Carpet Cleaner
There is a large amount of olive oil in this recipe but don't skip it. It adds an unctuousness to the meat as it cooks. Don't use your finest olive oil here—everyday oil is okay. Same goes for sake; an inexpensive grocery store variety is fine. If it's on the sweeter side, taste for salt-balance at the end.

I check the beef chunks 2-3 hours into cooking, testing for tenderness. Large slabs of chuck roast have some areas generously striated with fat, and some with pure lean muscle (don't we all?). The fatty areas will cook faster than the lean areas—those lean areas are what can plunge beef stew into mediocrity—they simple are not cooked long enough to release their inner luxuriousness. I remove any fatty pieces that are tender by hour two; you don't want them disintegrating. Those that are tough may need another 1-2 hours of cooking. Give them what they need. Respect the beef.
After faithfully following the original recipe several times, I tweaked the dish to my liking: I upped the soy sauce and garlic, and cooked it in a Dutch oven instead of a pressure cooker. I also removed the beef pieces and reduced the sauce. It's a lot of liquid, and I wanted a thicker sauce to sit atop rice, rather than run right through it. And finally, I waited 24 hours before consuming this. Yes, I know, delayed gratification, but the flavors develop overnight and improves by leaps and bounds the next day.
This recipe is an investment; the time it requires will reward you with ample dinner dividends in the form of gorgeously tender beef wrapped in a rich glossy mahogany sauce. Feel free to freeze cooled portions for up to a month, so your future self that comes home sad and hungry will have a glimmer of brightness. But for goodness sake, make fresh white rice while you reheat it. The beef and its magical sauce have earned it.

---
Japanese beef stew
Adapted from NHK's Dining with the Chef
3-4 lb. beef chuck roast, cut into large chunks roughly 3 inches in size

1 onion, peeled and cut in large chunks

1 carrot, peeled and cut Iarge chunks

1 rib of celery, cut in large chunks

2 garlic cloves, peeled

1 can of tomatoes (14 oz.)

100 g tomato paste

1 cup of sake

2 tsp. miso

2 Tbsp. soy sauce

1/2 cup of olive oil

1 Tbsp. honey

1 Tbsp. sugar

1 cube chicken bouillon

Salt to taste

Freshly cooked rice, for serving

In a food processor, drop in the pieces of onion, carrot, celery, garlic cloves, tomato paste and tomatoes with their juices. Pulse until smooth.

In a measuring cup, add sake, miso, soy sauce, honey, sugar, olive oil, chicken bouillon and mix thoroughly.
Place the beef chunks into a heavy pot with a lid, pour over tomato mixture and sake mixture. Stir to combine all ingredients. Bring to a boil, reduce to a low simmer, and cover.
The flame should be kept quite low, with the sauce bubbling gently. Check beef for tenderness after twohours. Remove any very fatty pieces that are quite tender to a bowl and reserve.
Continue to cook until remaining lean pieces are tender, another 1-2 hours. This may depend on the size of your beef chunks, but it's better to invest the time to make sure all pieces are tender.
Once beef is fork tender, remove to a bowl. Increase heat to reduce the sauce at a medium-high simmer, about 10 minutes. Watch it carefully and stir frequently; don't let it stick or scorch on the bottom of the pot. Taste sauce for balance and add salt if needed.
If you're serving it for dinner that night, let the sauce cool slightly and skim off the oil that rises to the surface. Add beef back to pot, turned to coat and warm gently.
For best results, cool down the stew and chill overnight in the fridge. Not only will it taste even better, but the top layer of fat will solidify and can be skimmed off easily.
Reheat gently. Serve beef on fluffy white rice with a ladleful of the rich sauce.