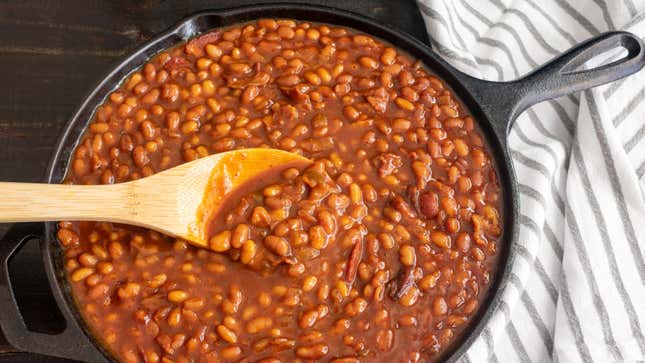 Thanks to my previous reporting on the season of pumpkin spice, I am already hitting an overload of overtly fall flavors, and we're just barely getting started. However, there is one fall food that might get lost in the conversation of PSLs and apple crisp, one that warms my soul and ought to inspire love from the masses—the humble bean.
How To Dispose Of Cooking Grease The Easy Way After Frying
What are The Three Sisters?
A recent tweet from Twitter user @shea_vassar has inspired an appreciation for beans in fall. The tweet notes, "pumpkins and corn are really getting their moments and I just wanna point out that there is a third sister who would like a word." It's true; all Three Sisters deserve our love and attention.
"'The Three Sisters' are crops planted together in a shared space: maize, beans, and squash," The U.S. Department of Agriculture's National Agricultural Library explains. "Developed through [I]ndigenous agricultural practices, these three plants protect and nourish each other in different ways as they grow and provide a solid diet for their cultivators."
This practice of planting the fall crops we love in tandem with each other was developed in Central America and became part of Native American tribes' cultivation strategy. Crops were planted this way not only because it was beneficial to the growth of each plant but also because of spiritual beliefs and traditions. The Three Sisters are revered as life-sustaining crops and considered sacred.
All the ways to use beans in the fall (and any other time of year) 
With all due respect to the other Sisters, beans are always serving up versatility. She's got range. Think about the fall gatherings you'll soon be invited to. What do you bring? Beans, of course.
Every party needs a pot of beans. From baked to refried, they're cheaper than anything else you can make for a crowd, and they suit every appetite. Stewed beans and ribs. Beans on toast. Hearty baked beans. These things really are life-sustaining.
Are you planning on doing a lot of baking as we head into the cozy months? That pie crust you're going to make, whether to hold apple or pumpkin filling, could actually use the help of some beans. Dried beans serve as the perfect pie weights during the blind bake process to prevent the crust from puffing up and creating air pockets as it bakes.
And whether feelings of depression come around seasonally or otherwise, a surprisingly good companion for those periods is a can of beans. Black beans require minimal effort to be turned into a satisfying meal, and when you're in a state where you just don't want to do anything, that level of ease is more crucial than ever.
Don't neglect the third Sister this fall in between sips of your PSL. In fact, I take back my description of beans as "humble"—they are mighty, and they are grand.