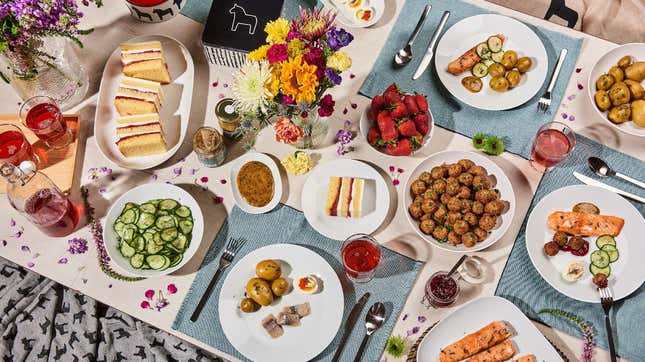 For most of us, IKEA is an impossibly large wonderland with affordable furniture, decorations, kitchen gear, and assorted knickknacks. (And yes, I've also seen my fair share of miserable families there, too.) But like many of you, my trips all culminate in a lunch at the IKEA cafeteria, where I can order unique items such as Swedish meatball platters, cured salmon, and shrimp salad sandwiches, all for a decent price. And if you're a big fan of IKEA's food like I am, you'll want to mark your calendars for June 23. For that day only, IKEA is celebrating a beloved Swedish holiday: Midsummer.
Dr. Pepper Strawberries & Cream Is Tearing Us Apart
What is Midsummer?
Midsummer is a celebration of the summer solstice, the longest day of the year. It's celebrated in many countries, but we often associate it with Scandinavian countries. Try your best to get any nightmarish visions of Ari Aster's Midsommar out of your head, because I promise this is a nice holiday.
Midsummer and Midsummer's Eve are Sweden's biggest holidays other than Christmas; we've written a primer on its significance. Food, of course, plays a big part in the celebration, and on June 23, IKEA—everyone's favorite Swedish brand—is getting in on the festivities by hosting a Midsummer buffet at every U.S. location.
What food is IKEA serving for its Midsummer feast?
An IKEA representative gave The Takeout an overview of what the Midsummer menu will look like. They confirmed the entire spread will consist of Swedish dishes specially curated for that day's events (read up on Swedish cuisine here). Shoppers/diners can expect to see some pretty fun stuff, including:
Eggs with seaweed pearls
Eggs with Najad salmon (smoked salmon)
Marinated salmon with salmon sauce
Pressgurka (cucumber salad)
Red skin potato salad
Pizzasalad (cabbage slaw)
Skagenröra (shrimp salad)
Thin bread
Veggie balls with lemongrass aioli
Boiled potatoes with dill butter
Poached salmon filet
Lemon caper sauce
Vegetables
Strawberry shortcake
Cookies and chocolate
Consider me impressed. I never quite thought of IKEA as Sweden's culinary ambassador, but considering this buffet menu, I might have to change my mind. Some of the items on the menu are commonly served at Swedish Midsummer festivals, including salmon, potatoes, and bread, which demonstrates the brand's attention to detail.
How to get tickets to the IKEA Midsummer buffet
If you're interested in attending, note that this is a ticketed affair. All tickets must be purchased in advance via your local IKEA's website, or you can purchase tickets in person at the store prior to that date.
The regular price of tickets is $24.99 per adult and $12.99 for children. If you're a member of IKEA Family (its free-to-join loyalty club), tickets are $19.99 per adult and $9.99 for children. Spending $25 for an all-you-can-eat day at IKEA sounds like money well spent; on your way out, you can pick up some frozen meatballs, gravy packets, and lingonberry jam to take home with you.