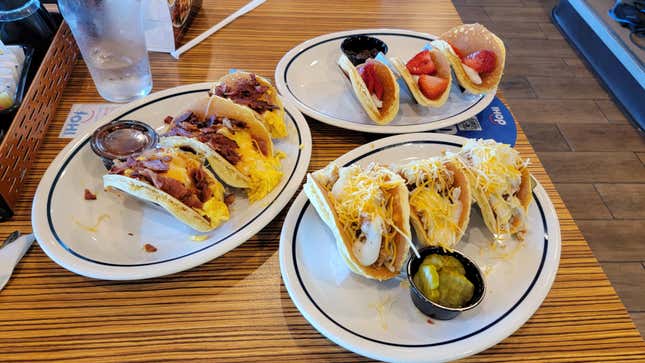 Drop your forks and reach for the hot sauce and syrup, because IHOP's new Pancake Tacos have arrived. These "Here for a fun time, not a long time" offerings are available in four varieties: Fresh Strawberry Cheesecake, Caramel Banana, Bacon, Egg, and Cheese, and Country Chicken and Gravy. Each $6 order consists of three tacos made with silver dollar pancakes, with the option to add meats, eggs, and hash browns in the form of a coma-inducing combo.
How To Dispose Of Cooking Grease The Easy Way After Frying
Is it just me, or does the marketing tag, "Here for a fun time, not a long time," conjure up images of swiping through Tinder (with syrupy fingers)? And speaking of superficial appearances, I went into this taste test with the lowest of expectations. The ingredients in the four tacos are things that any IHOP kitchen would already have on hand, so how special could they really be?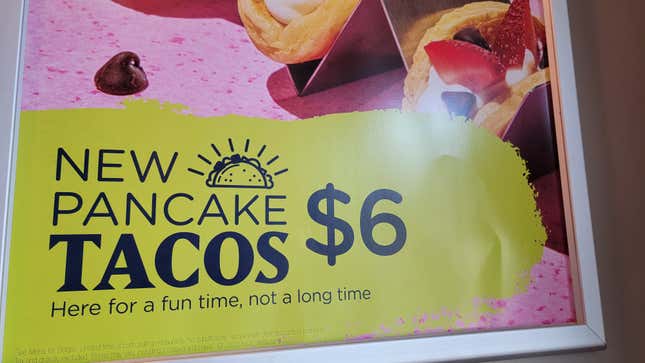 My initial thought was to order one of each taco, jot down my notes, and be done. No such luck. The menu dictators at IHOP aren't interested in your "a la carte" whims. These tacos are only available in trios of the same flavor. I politely asked the server, just to be sure, and was informed that this was indeed the case.
Faced with the possibility of paying $24 for much more breakfast than I'd planned to eat, I decided to pare down the selection. The Caramel Banana got the axe for two reasons: Cheesecake and chocolate are one of the few sweet combos I enjoy, and I figured the bright colors of the strawberries would be more photogenic. Let's examine the entries one at a time.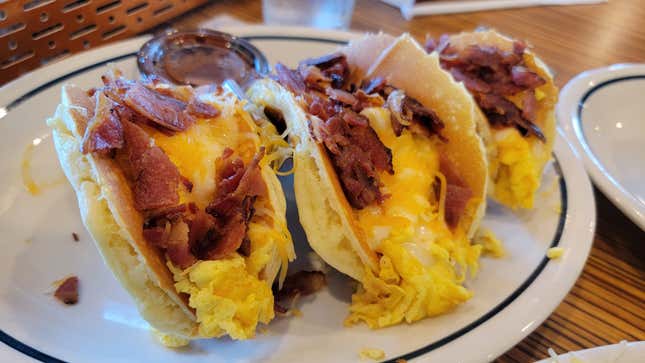 Bacon, Egg, and Cheese Breakfast Pancake Tacos
The description for the Breakfast Pancake Tacos reads as follows: "Three folded silver dollar pancakes filled with scrambled eggs, hickory-smoked bacon, Jack & Cheddar cheese & white cheese sauce," plus an invitation to "Top it with salsa for a hint of spice!"
Frankly, I'm at a bit of a loss to elaborate on the taste, because it's exactly as described by the ingredients. This isn't necessarily bad, given the adequacy of the components, although the only "spice" I got from the salsa was the "faintly ripe trash can" flavor I expect from most fast food varieties of this condiment.
The stars here are the pancakes themselves—soft, supple, and vaguely sweet—and I was immediately sold on them as a vessel for a breakfast taco. But as I've come to expect from IHOP, most of the breakfast accouterments were just… there. Not bad, not good, but at least competently prepared.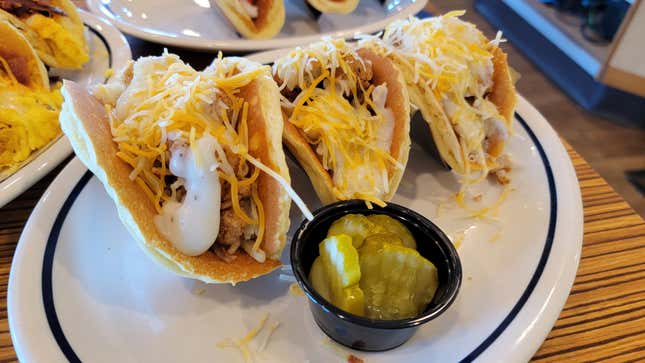 Country Chicken and Gravy Pancake Tacos
Do you like flour and starchy thickeners? Because that's what you'll get with this entry. This was actually the first of the tacos I tried, and my five-word reaction was immediate: "Thank god for the pickles." Between the breaded chicken, flour gravy (with barely a whiff of sausage), and pancakes with yet more pillowy flour, I can't imagine eating all three of these. Heck, even the cheese uses floury anti-caking agents to keep its shreds from clumping. What you wind up with is a logjam of carbs and fat, without any zing to break through the blah.
Yet there's potential here. This taco's problem is simply a lack of pizzaz. The tenders are crying out for a kiss of cayenne or hot sauce, anything to break through the flavor of a cloudy day. The pickles help, but the rest is akin to a mouthful of vaguely savory oatmeal. With some additional acid and spice, these could be an indulgent order.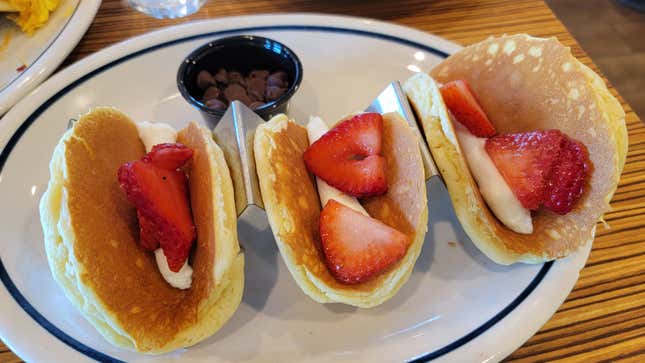 Fresh Strawberry Cheesecake Pancake Taco
As so frequently happens, the reality of these tacos didn't quite live up to the marketing photo. But shockingly, that's where my disappointment with this entry ends. From the very first bite of these Pancake Tacos, my dormant sweet tooth perked up. The strawberries were plump and wonderful, and the (sadly abbreviated) cheesecake filling played perfectly with the chocolate chips. Sitting at home some ten hours later, these were the only tacos that I wished I'd saved.
As much as the other two entries were merely the sum of their parts, the Strawberry Cheesecake Pancake Tacos had a simple, resonant harmony. Drizzled with a little syrup, I could see these being a sweets-lover's dream.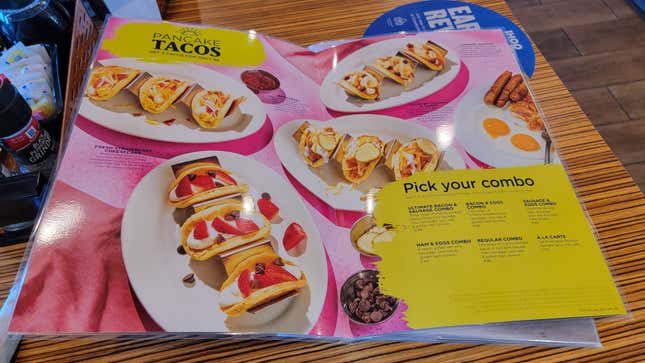 Who are IHOP's Pancake Tacos For?
So, there you have it. A bit of harsh judgment and a garnish of praise for IHOP's latest promotion. But in the absence of exuberance or disgust, I found myself thinking less about what these tacos are and more about why they exist. As with most of the regular menu, there's nothing "International" about IHOP's Pancake Tacos. Each of the four entries is as white-bread and Middle American as could be and, quite frankly, I'm okay with that. Better to play to your core audience than to scatter some droopy pico de gallo over your eggs and call it Huevos Rancheros.
Really, this menu addition makes a lot of sense. Glancing sidelong at my fellow patrons (who were, to be fair, eyeing the weirdo who ordered nine tacos), I was reminded that the food at IHOP isn't meant to knock your socks off. The pancakes, bacon, and hash browns are there to provide pleasing smells, with familiar mouthfuls that punctuate the gaps in conversation.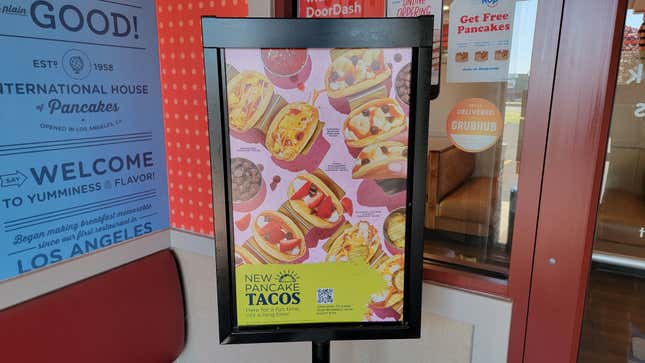 From a corporate standpoint, Pancake Tacos are a good use of foodstuffs already on hand in the kitchen. I'll also compliment the company on its pricing: $6 is a reasonable fee for a trio, and most of the combos clock in under $10. For people who like their breakfasts uncomplicated and filling (i.e. IHOP's entire customer base), these are a harmless, slightly whimsical offering.
And you know who might really like these? Kids. IHOP's Pancake Tacos hit the sweet spot of affordability, sugar sweetness, and slight messiness, providing appeal for children and parents alike.
One last thing to add: The existence of Pancake Tacos alludes to the possibility of a Pancake Burrito, or perhaps even Pancake Enchiladas. So, IHOP, let me say this—I like what you're doing. If we can kick things up with, say, a slightly larger pancake wrapped around some meat, eggs, and potatoes, and maybe topped with a spiced-up sausage gravy and some melted cheese, I'll be there to place an order. We can even say it was your idea.