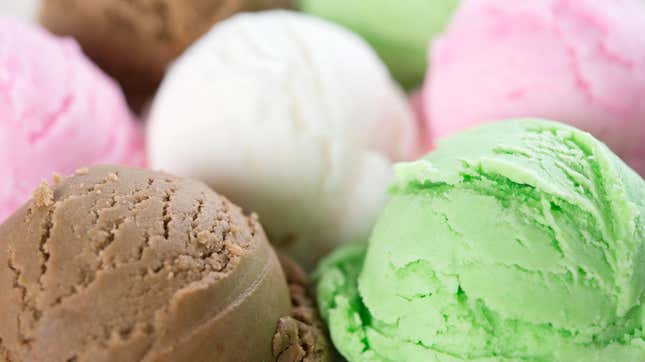 Last week, I asked my strange aunt what she wants for Christmas. (I'm nervous about shipping delays, and she lives four states away, so I'm trying to work ahead.) "Well, I collect vintage art museum posters, you know," she replied.

Dr. Pepper Strawberries & Cream Is Tearing Us Apart
Hmm. Okay.
Thanks for playing, girlfriend, but vintage art museum posters are a bit out of my financial grasp. After we spoke, I shuffled to my freezer and pulled out a pint of my beloved Jeni's. It was then I realized: everybody likes ice cream. And, thanks to the miracle of dry ice, ice cream is now highly shippable.
My aunt is getting ice cream this year, damn it.
When you think about it, novelty and/or premium ice cream is the best kind of holiday gift. It's likely not something you'd buy for yourself, it often comes in cute packaging, and there's a flavor for every palate. These days, we also have our pick of dairy-free, gluten-free flavors for loved ones with dietary restrictions. Finally, it's a lot less of a commitment than other mail-order treats like, say, a Beer of the Month Club.
If you'd like to hop aboard the ice cream train, now's the time to order. A few of my current favorites:
For your hippest cousin: Salt & Straw's Friendsgiving collection is, sadly, sold out, but a few of the individual pints are still on the market. My personal favorite, the Parker House Rolls flavor with salted butter cream, is a definite crowd-pleaser.
For your sister who loves holiday claymation films: Jeni's Splendid Holiday Collection is maybe the best ice cream collection I've ever had. The collection in its entirety is sold out; however, I HIGHLY!!!!!!! recommend snapping up a pint (or five) of the Pistachio Macaron flavor. It's buttery and just a little savory, with enough pistachio to delight but not overwhelm. Also highly recommend the White Chocolate Peppermint,
For a friend who wants to let their freak flag fly: I can't believe I'm writing this, but the Van Leeuwen Kraft Macaroni & Cheese ice cream is back for another limited run. This is huge, as it's the best ice cream flavor I've tried all year. If this latest run is anything like the last two, it'll sell out quick.
Keep in mind that shipping ice cream is a fairly costly endeavor, so you should plan to shell out around $50 or $60 for a full five-pack from the fancy-pants brands listed above. But the way I see it, that's money that would otherwise be spent on, what, another pair of pajama pants?
Give the gift of pure, unadulterated joy. Give the gift of brain freeze. Give the gift... of ice cream.