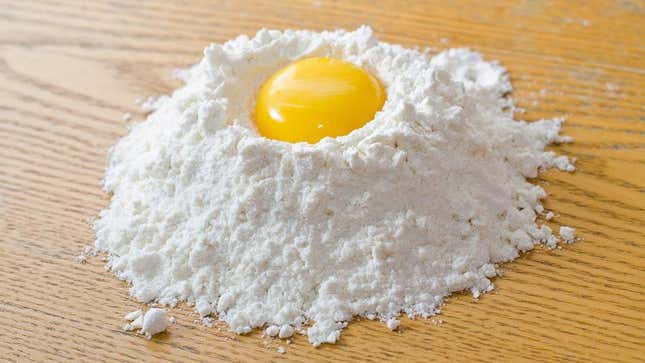 Trial and error in the kitchen is a good thing, but you don't always need to work your way through an entire recipe to determine whether it sucks. As we're well aware, just because something exists on the internet doesn't mean an actual authority wrote it. So how does one sort out the frauds from the professionals to minimize cooking risk? You can, in fact, use context clues to skip out on simply bad recipes and prevent certain kitchen disasters.
Every recipe found online should be met with some level of skepticism. Sure, your double chocolate bundt cake looks great, recipe blogger, but guess what, pal? I don't fucking know you. By agreeing to cook your food, I'm signing off hours of my time and a sizable chunk of money, all because some stranger with incredible self-esteem (hey, good for you) felt the world should no longer be robbed of their turkey pot pie. Nah, whenever I read a recipe online, I ask myself, "Is it possible these chocolate chip cookies are a prank?" and "Who would benefit from seeing me make a bad blueberry pie?" Some might call this paranoia, but a healthy mistrust of the greater recipe community ultimately saves me both time and effort.

As someone who has published a few dozen recipes online, I can tell you what I've learned. I can tell you the mistakes I've made, and how I know what to trust when I'm scanning the web for dinner ideas. As Los Angeles Times recipe developer Ben Mims once wrote, "Above all, recipes should be instructional and written with an emphasis on clarity."
With that in mind, when is a recipe not very clear? Look out for the following red flags.