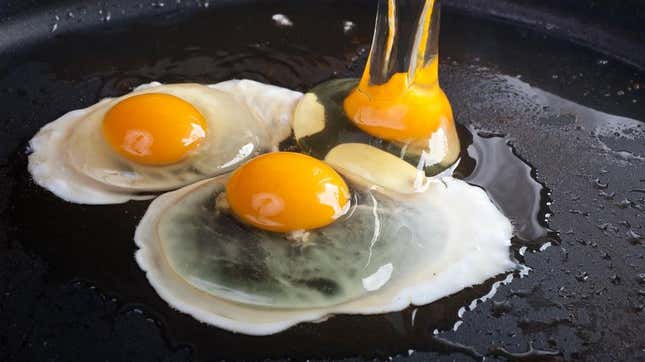 It's widely known that a single fried egg can turn even the saddest dish into a beautiful meal. Slapping one onto a salad turns it into something you'd pay $20 for at a restaurant. It makes a packet of instant ramen look, and taste, like a fancy meal. Put one on a big, fat burger, or atop a heaping plate of air-fried vegetables or a messy pile of sauteed greens. Think of it as a burst of elegance for less than 50 cents a pop.

Fried eggs can deliver different flavors, textures, and vibes depending on how exactly you fry them. For most of the following five egg frying techniques, you'll need nothing more than eggs (obviously), fat (like butter or oil), and a pan—preferably a nonstick skillet, since eggs cook quickly and will stick to just about anything if given the chance. If you don't have a nonstick skillet, or if you're using a cast iron pan that has yet to reach peak seasoning, be generous with whichever fat you're choosing to fry in.
Speaking of sticking: During the first minute or two of cooking, the egg might seem as if it's stuck to the pan. Do not be tempted to pry it from the pan with a spatula or futz around with it in any way. As long as you've coated your pan with a bit of fat, the egg will release itself once the bottom is sufficiently cooked. You're just going to have to trust it.