How Do You Take Yours?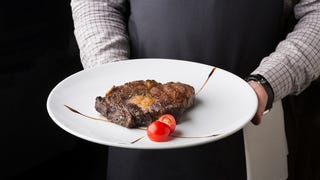 How Do You Take Yours?
In How Do You Take Yours?, The Takeout solicits staff and outside expertise for secret tips on improving one dish.
Have you ever had a bad chocolate chip cookie? I'm trying to think of an example from my own experience, and I'm just not coming up with one. Even the freebie ones you're given when you check in to DoubleTree Hotels are totally welcome, all the more so because they're unexpected. So, we can conclude that chocolate chip cookies are sort of like pizza, in that even the mediocre ones are reasonably tasty.

But what makes a great chocolate chip cookie? How do you improve on the classic recipe? How do you maintain the cookie's simple essence while making it just that much better? We asked the experts.
---
Chop your own chocolate
"Don't use chips. Get some chocolate you really like, the kind of chocolate you'd eat out of hand. And chop it yourself. (I find it easier to chop with a serrated knife.) Chop it into chunks and chip-sized pieces and shards. And save the dust! Add the dust in with the cookies. Every bite will be a little different. That's the best way: good chocolate, chopped." —Dorie Greenspan, James Beard Award-winning author of Dorie's Cookies
Use your fridge
"Bake cookies from cold, refrigerated portions straight to the oven. You will still get the crisp edges, but with a soft, gooey center." —Adrian Mendoza, executive pastry chef, Herb & Wood, San Diego
G/O Media may get a commission
Let melted butter come to room temp
"I use melted, salted butter, making sure it's at room temperature before creaming with the sugar—that gives the cookies a chewier texture." —Heather Terhune, executive chef, Tre Rivali and The Outsider, Milwaukee
Be like Salt Bae
"Finishing the top of the cookies with a flake salt such as Maldon Sea Salt gives them a great texture and makes them a little more savory."—Austin Fausett, executive chef, Fisk & Co., Chicago
Mix in pretzels
"Salt is great in cookies, as everyone knows, as is a bit of crunch. Place a mini, thin-twist pretzel on top of your cookies halfway through baking, or crush a bunch up and mix 'em into your batter."—Kate Bernot, associate editor, The Takeout
Think in black-and-white
"For chocolate chip cookies, I often split the dough in half, adding cocoa powder to one half of the dough to make it dark, and adding white chocolate chips for flavor and contrast. I leave the other half as a classic mix, and use dark chocolate chips. Then I swirl the two doughs together to make a play on black and white chocolate chip cookies! From time to time I also add chopped peanut butter cups to the dough."—Becky Quan, pastry chef, NoMad Las Vegas
Add dried cherries
"I love to do a chocolate chip cookie with cocoa powder added to the dough, to make it a chocolate chocolate chip cookie, and add dried cherries. I love how the acidity of the cherries cuts through the richness of the cookie. Plus, I love fruit in most things."—Natalie Saben, pastry chef, Pacific Standard Time, Chicago
Bake better with bacon
"I love the brown-butter-bacon chocolate chip cookie recipe by pastry chef Dana Cree that we posted here on The Takeout. I firmly believe that bacon makes everything better."—Gwen Ihnat, deputy managing editor, The Takeout
Chill, form into log, freeze
"Since most recipes make so many cookies, I'd recommend chilling half the dough, rolling it into a log and wrapping it tightly with plastic wrap. Freeze it, and when you want ready-bake cookies, just slice it and throw it in the oven." —A.E. Dwyer, contributing writer, The Takeout