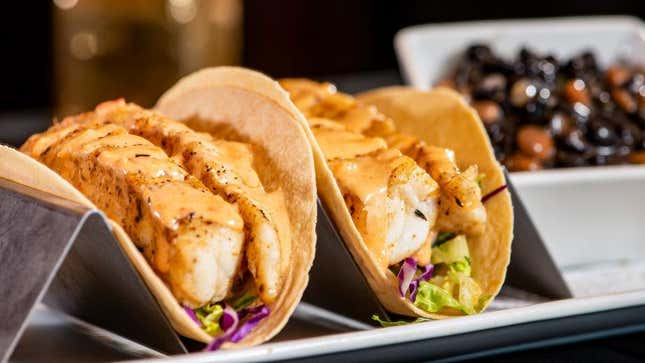 I love red meat even more than I love booze. So last year, when I decided to try out Dry January, I noticed significant changes in my body throughout the month. Growing fearful of a vicious rebound once January 31 came around, I chose to keep my healthy stride going with No Red Meat February. I wasn't looking to give up either one for good, but I wanted to see what a break from my two favorite food groups would do to the ol' dad bod.

How To Dispose Of Cooking Grease The Easy Way After Frying
The back-to-back goals proved beneficial: Despite eventually returning to regular red meat consumption, I hit the best cholesterol levels of my life. It turns out there's more to eat than red meat—who knew?—and I figured out the most delicious way to pull off a month of zero burgers, steaks, and meaty sandwiches. The answer didn't involve the words "impossible" or "beyond," and since we no longer live in the 1990s, it wasn't turkey burgers 24/7, either. Instead, my diet incorporated something that flipped and flopped: fish, and lots of it.
The cost and benefits of cooking with fish
Animal protein is what makes a meal for me. I'm of Bengali descent, so eating fish is in my DNA—the country of my forefathers lives off ichthyoid. As my parents' generation moved to America and regularly consumed more red meat, cases of heart-disease-related afflictions rose in kind. I had all the reason in the world to eat more fish, like anyone should. There is, of course, one major factor to contend with: the price.
While abstaining from red meat, I certainly spent more when buying fish compared to, say, poultry. But come on, now, most of us have eaten enough chicken to last a lifetime. And while swordfish steaks fetch a price at the supermarket right up there with a ribeye, it's a damn meaty fish and cooks way faster than a bland old chicken breast. No Red Meat February came with a price tag, but also provided the convenience of shortened cooking times, perfect for the weeknight dinner grind.
How to incorporate fish into your diet
Once I got through the initial wave of salmon, swordfish, and tuna, I began turning to other types of fish to bring protein to my plate. The first thing you might notice when going whole hog on a pescatarian diet is finding deals with the local catch. Living in Austin means the Texas Gulf becomes part of the equation, and the Gulf happens to produce great shrimp, grouper, snapper, and drum. Importantly, all of the above make for great tacos.
As with beef, cooking with fish requires a bit of strategy. Salmon is as versatile as it gets, so make it part of your weekly rotation. It takes equally well to roasting, grilling, sauteeing, smoking, and poaching. Delicious hot or cold, in salads or as a main, salmon might seem like a pedestrian pescatarian choice, but it remains a weekly buy at the Khan house.
Do you love pesto and/or chimichurri? Try it on swordfish. It might seem like a weeknight splurge, but you'll look forward to that meal as much as any decadent home-cooked steak.
As mentioned earlier, mild white fish like snapper or cod make for great tacos; I'd even take it a step further and say any "strong sauce cuisines" like Thai or Indian work well with this kind of fish. Make the sauce separately in advance and your meal prep is virtually finished. Pro tip: Pick up a can of Thai curry paste and a can of coconut milk at your local supermarket. Your new fish habit just got elevated to Thai takeout night.
The best tools for cooking with fish
As mentioned above, fish cooks fast. The filets are never more than 1.5" thick, and getting them cooked to a safe temperature of 145 degrees is perfect for even a busy weeknight and last-minute grocery shopping. I'd advocate you have both a reliable cooking thermometer—which is up there with a sharp chef's knife, in terms of importance—and a good nonstick pan on deck.
A good nonstick pan will make cooking fish (and cleanup) a breeze. I recently splurged on the Cadillac of nonstick pans, a Scanpan, and have zero regrets. Mine is oven-proof and, unlike most nonstick pans, can handle metal utensils. On the other end of the spectrum is the Tramontina Pro aluminum nonstick line, which comes in for a fraction of the cost. You'll have to be vigilant about using high-temp silicon utensils in that one, but it will get the job done. If you follow the manufacturer's guidelines, both will last a long time.
Some people dismiss the idea of a seafood-heavy diet—like that meme of the kid in the wrestling singlet—but I'm not one of them. I'd so much rather eat fish than fake meat, the former of which opens you up to a sea of new recipes (sorry). And who knows? Maybe your body will thank you, like mine has. I'm even debating making a meme of myself wearing a wrestling singlet. For now though, the appropriate bottom half caption escapes me. Maybe it doesn't even need one.