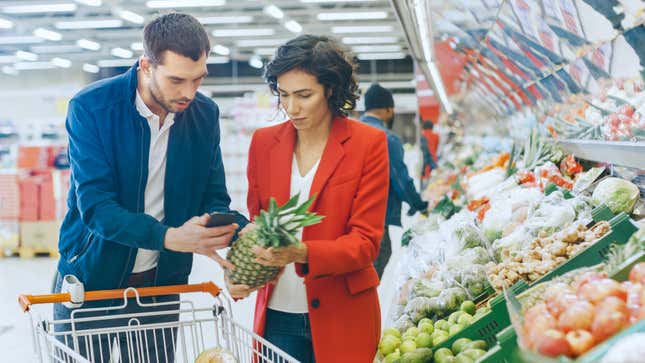 We all know that grocery prices have gone up, but unless you want to take up extreme couponing, it's not always obvious what can be done about it. Rather than deal with the burden of pricey groceries right now, more shoppers are choosing to delay the pain until later. Recently published data from Adobe Analytics shows that consumers are opting to use "buy now, pay later" programs offered by some retailers when shopping for staples.
All the Best Finds at the Sweets & Snacks Expo
The U.S. Bureau of Labor Statistics notes that inflation has risen 6% over the past 12 months ending in February, and inflation specifically in the food category has gone up 9.5%. Major retailers such as Walmart, Albertsons, Costco, Trader Joe's, and Target all employ a buy now, pay later program called Zip, which allows shoppers to pay their grocery bill in four installments over six weeks. The fine print of the Zip's website reads in part:
"For a $335 purchase, you'd make four $85.25 payments every two weeks starting today for a 31.11% annual percentage rate and a total of payments of $341. A $6 installment fee is charged at commencement - you pay $1.50 of this fee as a prepaid finance charge when you make your initial payment today. The remaining $4.50 is included in your future payments. Minimum purchase of $35 required…Installment fees are $4 for purchases from $35 to $99.99, $5 for purchases from $100 to $199.99, and $6 for purchases $200 and above."
Adobe analyzed commerce transactions online, covering over 1 trillion visits to US retail sites, 100 million SKUs (aka individual products), and 18 product categories. The data indicates that the number of transactions involving groceries increased by 40% in January and February in 2023. By comparison, opting to buy now and pay later (BNPL) rose 38% among purchases of home furnishings, and electronics purchases actually saw a 14% decrease in the BNPL model.
Typically, people tend to opt for the BNPL model when they purchase big-ticket items like a new couch or a 60" TV. The fact that people are treating their grocery trips the same way speaks to two things: the increase in BNPL services and the strain of high grocery prices on consumers' budgets.
"The rise of buy now, pay later usage for groceries tells us that consumers are likely making bigger purchases online to take advantage of special promotions and stock up on staples," said Vivek Pandya, lead analyst of Adobe Digital Insight, in a blog post regarding the study.
Winsight Grocery Business also reported earlier this year that three in five people have used a BNPL option at checkout to finance a purchase of some type, and around 30% are looking for ways to finance their purchases or delay payments. As always, read the fine print—while many such services might not charge you anything extra if you pay on time, things like annual percentage rates, late fees, and interest can make paying for groceries this way a financial minefield.