Let us peel back the curtain for a moment. When you ask a bunch of people if hot dogs belong in the sandwich taxonomy, some patterns start to emerge. Those in the 'yes' camp often say that, as there are two pieces of bread with something in between, that makes a hot dog a sandwich. Case closed. Those who say no often cite the fact that two sides of the hot dog bun are connected, while sandwiches are open on four sides; alternately, they argue that sandwiches are stacked top to bottom, while hot dogs are side to side. These answers are sound, and frequent.

Sinbad's answer was a breath of fresh air.
To be fair, we caught him in a good mood, as he was very excited about his new show, Rel—Lil Rel Howery's eponymous, Chicago-set sitcom, which premiered on Sept. 9 on Fox. Sinbad plays Rel's father, a classic kind of sitcom parent: generally supportive, a little judge-y, and a reliable source of comic relief. It's understandable that he'd be excited. Rel's pedigree isn't insignificant, boasting both Jerrod Carmichael (The Carmichael Show) and Josh Rabinowitz (Broad City) as executive producers, in addition to Howery.
So maybe he was just so stoked about this project that he was ready to expound on just about any subject? Maybe this theory has been long-gestating? No idea. But it was an entertaining couple minutes, we can say that.
---
The Takeout: Is a hot dog a sandwich?

Sinbad: No.
TO: Why not?
S: A hot dog's not a sandwich. It's not. Because it doesn't fulfill you.
TO: So it's not a sandwich because it's not hearty enough?
S: It's not enough, it's not enough.
TO: Okay, so—
S: It's like this. You go to the movies, you think, I want hot dogs, and popcorn, because I'm not hungry. I'm not all that hungry—I think I'll get a hot dog.
G/O Media may get a commission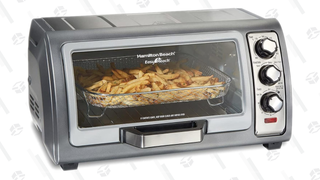 40% Off
Hamilton Beach Countertop Toaster Oven
TO: So a hot dog is, what, a snack?
S: It's a snack. A hot dog is a snack. Now if you add chili, if you make it a chili cheese dog, now it's a meal, because you've gotta use a fork and a knife sometimes.
TO: So if it has chili on it, then it's a sandwich?
S: If it's thick chili, really thick chili, and you can't bite it because you've got to cut it, then yeah, it is. Then it's a meal.