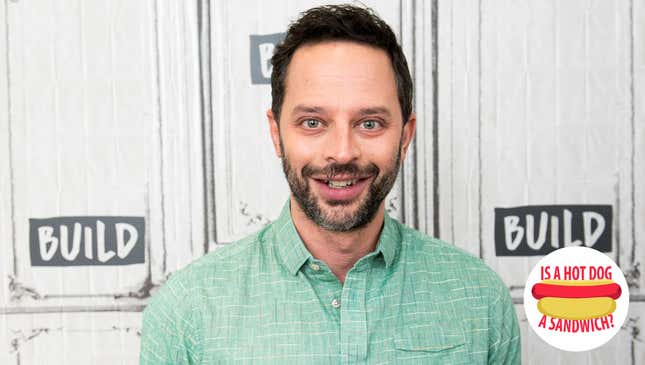 Here's a missed opportunity: I didn't start my brief conversation with Nick Kroll by saying, "ohhhhh, hello." Nor did I drop into the voice of Parks And Recreation's The Douche. I did not quote The League or Kroll Show or I Love The '30s, you get the idea. In some ways, it's a relief, because that's tacky. In others, it's a bummer, because I have no idea what he'd have done, given the provocation.
All the Best Finds at the Sweets & Snacks Expo
Nick Kroll, comedically speaking, is a guy who often turns left when you think he'll turn right, or he'll turn right, but in such a way that you assume he's going to switch and turn left. Or he'll dress up like an old man and somehow do both at once, or neither. No idea. He's not zany, he's just never quite doing the thing you expect, and he's doing the unexpected thing with a quickness.

The same can be said of Big Mouth. The excellent Netflix animated series, co-created by Kroll, returns for a second season on Friday, ready to once again dive into the very choppy waters of puberty and growing up. In his review of the upcoming season, The A.V. Club's Erik Adams called it "faster, funnier, and filthier than anything else on TV," adding:
The speed and density with which the show tells jokes in its second season is astounding, an ideal synthesis of the freewheeling improvisation of Nick Kroll and the gag-a-second rhythms of Andrew Goldberg's previous cartoon gig, Family Guy... In their first season, Kroll and Goldberg (who created Big Mouth with Jennifer Flackett and Mark Levin) built a surprisingly warm, unabashedly filthy show around a cast of middle schoolers and the manifestations of their adolescence—one that also preferred its laughs hard, rapid, and any other descriptor readily bent into double entendre.
On second thought, the biggest missed opportunity here was not asking Nick Kroll what the characters of Big Mouth would have to say about hot dogs. Instead, I just asked him whether or not they're sandwiches.
---
The Takeout: Is a hot dog a sandwich?

Nick Kroll: Hannibal Buress has addressed this, I believe. I don't believe it's a sandwich. I believe it's a hot dog. I love hot dogs. I love sandwiches. I ate two hot dogs earlier today, and I don't think I would have said I was eating a sandwich. What's the going philosophy on it?
TO: People lean slightly more towards no, but Rita Moreno says yes, so—
NK: Okay, yes. We're all doing what Rita Moreno says. If I could be as vibrant as Rita Moreno is at 89? How old is she, I know it's her mid-80s [Note: National treasure Rita Moreno is 86]. However old she is, however vibrant she is, I will philosophically agree with however she defines a hot dog.
TO: So your personal opinion is that a hot dog is not a sandwich, but if Rita Moreno says it's a sandwich, then it's a sandwich?
NK: Yes. Whatever Rita Moreno says, I agree with, always.