Is A Hot Dog A Sandwich?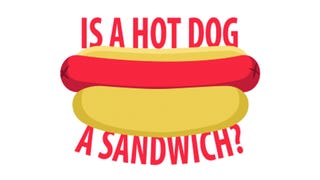 Is A Hot Dog A Sandwich?
Welcome to Is A Hot Dog A Sandwich? in which The Takeout asks famous and important people to answer the most important question to ever beguile the human race.
First, the good news: Brooklyn Nine-Nine will be back any minute! After an unexpected cancellation by Fox, a less-unexpected outpouring of fan support, and a heartening pickup by NBC, it returns Thursday. Amazing, right?

Second, the bad news:
We will keep asking this question, but Gina Linetti has spoken. Gina is "confident, idiotic-but-smart, and infused with rhythm and cellphone radiation." If this were an episode of the Nine-Nine, her word would be the final one, because Gina is almost always right. So here's what the woman who brings her to life has to say about hot dogs.
G/O Media may get a commission
---
The Takeout: Is a hot dog a sandwich?

Chelsea Peretti: Is this a trick question?
TO: No.
CP: Well, then no, I don't believe so, I think because the bread is attached on one side of the bun. I mean, would you call a burger a sandwich?
TO: Maybe?
CP: No! It's its own genre.
TO: Works for me.
CP: Are you from Hot Dog Weekly?
TO: No?
CP: Too bad.