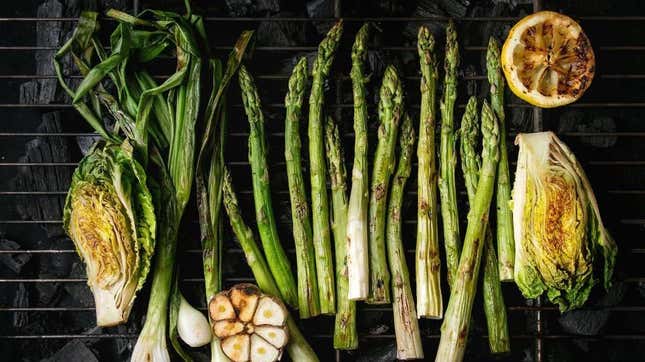 I traded in my sensible cross-body handbag for a backpack a few years ago when I decided to start properly hydrating myself. I bought a 48-ounce Nalgene that, when filled, weighs about 75 pounds and could easily maim an assailant. I keep that thing on me morning, noon, and night, somewhat limiting my accessory options. Enter my trusty backpack, which really drives home my Midwestern camp counselor. At this point, I have no use for flimsy handbags—but that doesn't mean I can't admire 'em. Now, one artist has created perhaps the coolest, flimsiest handbag ever made: a series of iconic Hermès birkin bags made of real vegetables.
All the Best Finds at the Sweets & Snacks Expo
designboom reports that artist Ben Denzer created the series in partnership with the iconic fashion brand. (Denzer is also the creator behind Ice Cream Books, a project that "pairs great reads" with elaborate frozen dessert arrangements.) Hermès shared the series on its Instagram account, courtesy of the artist. "Enjoy the detour as classic Hermès bags inspire art good enough to eat by @bdenzer," the brand wrote on Instagram, showcasing the bags in three separate posts.
Denzer constructed three separate bags, each made using creatively arranged asparagus, cabbage, and cucumbers, respectively. The artist also took to his own Instagram to outline the handbag production process, including some other examples that didn't make the final cut. (Banana bag, anyone?)
Can you store a 48-ounce Nalgene in one of these puppies? Probably not. Then again, you probably shouldn't throw a giant water bottle into a genuine Hermès, either. Do fashion people even drink water? Have Anna Wintour's unhydrated insides withered to a bone-dry crisp? Ultimately, it's fashion, baby—and, as we know, fashion rarely has anything to do with function. Still, that asparagus bag sure is easy on the eyes.