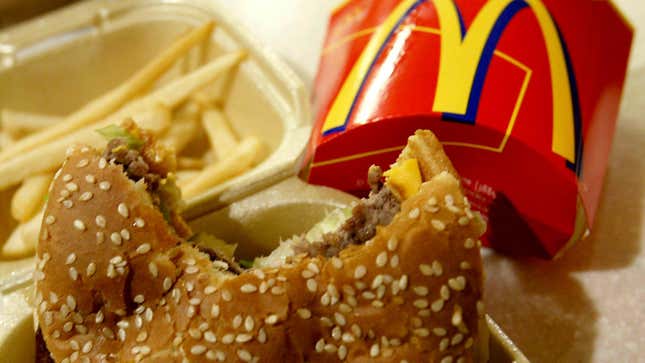 National Chains
McDonald's: Known for their iconic golden arches, the global fast food giant is synonymous with classics like the Big Mac, Quarter Pounder, and world-famous French fries.
Starbucks: Renowned for its extensive coffee menu, Starbucks has gained a loyal following with favorites such as the Caramel Macchiato, Pumpkin Spice Latte, and Frappuccinos.
Subway: With its focus on fresh ingredients and customizable sandwiches, Subway offers a diverse range of options, including the iconic Subway Club, Meatball Marinara, and Veggie Delite.
Burger King: Known for its flame-grilled burgers, Burger King boasts signature items like the Whopper, Chicken Fries, and the famous "Have it Your Way" concept.
Taco Bell: With a Mexican-inspired menu, Taco Bell serves up signatures like the Crunchwrap Supreme, Doritos Locos Tacos, and the fiery Diablo Sauce.
Wendy's: Known for its square-shaped burgers and fresh ingredients, Wendy's boasts menu items like the Baconator, Dave's Single, and the Frosty, a unique blend of a milkshake and soft-serve ice cream.
KFC: Famous for its finger-lickin' good fried chicken, often served in a bucket.
Pizza Hut: A popular go-to for the iconic Pan Pizza, Stuffed Crust Pizza, and their popular WingStreet wings.
Domino's Pizza: Emphasizing speedy delivery, Domino's Pizza delivers hot and fresh pizzas, including favorites like the Pepperoni Pizza, ExtravaganZZa, and the Domino's Bread Twists.
Dunkin' (formerly Dunkin' Donuts): Known for its vast selection of coffee and baked goods, Dunkin' offers delights such as Boston Kreme Donuts, Munchkins, and its signature Dunkin' Original Blend Coffee.
How To Dispose Of Cooking Grease The Easy Way After Frying
Regional Chains
In-N-Out Burger: A beloved West Coast favorite, In-N-Out Burger is famous for its simple yet delicious offerings like the Double-Double, Animal Style burgers, and hand-cut fries.
Culver's: Hailing from the Midwest, Culver's is known for its ButterBurgers, Fresh Frozen Custard, and a wide selection of mouthwatering Wisconsin Cheese Curds.
Whataburger: A Texas treasure, Whataburger satisfies cravings with classics like the Whataburger, Honey Butter Chicken Biscuit, and their signature A.1. Thick & Hearty Burger.
Shake Shack: Originating in New York City, Shake Shack delights customers with their high-quality burgers, crinkle-cut fries, and refreshing milkshakes made with real ice cream.
Bojangles': A Southern favorite, Bojangles' serves up flavorful Cajun-inspired fare, including its famous Bo-Berry Biscuits, seasoned fried chicken, and buttery biscuits.
Tim Hortons: A Canadian staple, Tim Hortons is celebrated for its coffee, donuts, and breakfast sandwiches, offering favorites like the Double Double Coffee and the Timbit variety pack.
Raising Cane's Chicken Fingers: With a focus on tender chicken fingers and signature Cane's Sauce, this Louisiana-born chain has gained popularity for its simplicity and quality.
Zaxby's: Specializing in chicken, Zaxby's tempts taste buds with dishes like its hand-breaded Chicken Fingerz, Zax Sauce, and the iconic Zaxby's Chicken Sandwich.
Sheetz: A convenience store chain that originated in Pennsylvania, Sheetz offers made-to-order food, including delicious MTO (Made-to-Order) sandwiches, salads, and snacks.
Del Taco: Blending Mexican and American cuisines, Del Taco offers favorites such as the Del Combo Burrito, Crinkle Cut Fries, and their famous secret sauce.