If you've attended an open house since the onset of the pandemic, it's likely either been a virtual experience, or the home has been sanitized within an inch of its life. And with the current levels of hyper-vigilance around health and safety has come the loss of perhaps the second best perk of open houses: free snacks. (The number-one perk is snooping through a stranger's home.)
"Pre-pandemic, we used to have fresh-baked cookies, those kinds of things," says Sangmi Park, founder of The Sangmi Park Team at Compass. "But after the pandemic, people don't even use the restroom."
The Takeout spoke with the New York City real estate agent about trends in open house refreshments, and whether anything can create an inviting atmosphere the same way free food can.
Brokers still enjoy refreshments
While the pandemic may have killed the snacks at public open houses (sorry, plebeians), those held for brokers still include something to munch on. According to Park, it's largely because brokers were still out in the field and accustomed to being around others during much of the pandemic when many people shifted to remote work. As a result, brokers are more comfortable sharing food.
G/O Media may get a commission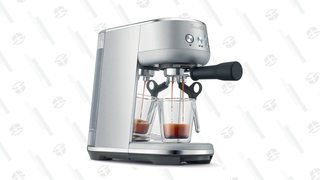 20% off
Breville Bambino Espresso Machine
"For a public open house for actual buyers—they're more careful," she says. "They don't want to try food on the kitchen countertop with a bunch of people coming in and out. It doesn't work anymore."
Sweets are out
The real estate market is apparently making us all saltier than we realized, because Park says that everyone is passing on desserts these days. With everyone's varying preferences, it's also easier to supply food with built-in variety, such as multiple types of pizzas or sandwiches—which are Park's refreshments of choice at open houses. This way, she can order options for every diet restriction.
Local snacks are best
Park recently had a listing in a four-story townhouse building in a very community-oriented area, so she brought pizza from a popular local restaurant around the corner to highlight the neighborhood's offerings. But it's not worth the effort in every part of town.
"If it's Midtown or Hell's Kitchen, those areas where you don't really see people have the local vibe, it's a little different," she says. "But for, say, Tribeca, then a local restaurant is always a nice touch to introduce the neighborhood to the buyer."
Nothing messy
There will be no salads at an open house, lest you send the cherry tomato you were trying to fork flying across the room and onto a white chaise lounge. And sorry if you were hoping for a glass of pinot noir to go with your vegan gluten-free slice of pizza. Red wine is a no-go.
If Park serves alcohol, she's opting for rosé. Otherwise, she likes to serve a fancy nonalcoholic beverage—maybe something fizzy that comes in a nice bottle.
"Nowadays, there are so many cool drinks that are non-alcoholic," she says. "I usually go for those kind of small brands, made of natural ingredients."
Baking smells—not cooking smells—are your friend
Before the pandemic, Park would heat up cookies before the start of an open house to get the scent of dessert wafting through the property. But non-bakery cooking smells (think fried chicken) are more "buyer beware" than "Mom's home."
"​​They will see it as a bad sign, like, 'Oh, it smells like food, the whole apartment—maybe the ventilation isn't working,'" Park says.
Food-scented candles are still a hit
You don't need to use food to create atmosphere. You can always use the next best thing: a food-scented candle.
"People love it," Park says. "They feel like they're at home. They feel comfortable. I do that all the time."
One of her favorites is the Baies / Berries candle from Diptyque, which smells like blackcurrant berries and, I can only assume, financial stability.