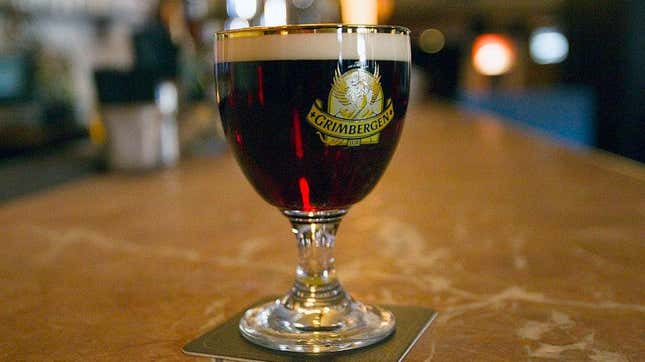 If you've been paying attention, you know I love a craftsman monk. Specifically Trappists. I'm nuts for a Trappist. Trappist monks are known for their self-sufficient culinary endeavors, which they use to support their monasteries around the world. And now, a group of monks in Belgium has a new project: cranking out creative beers in a brewing facility that hasn't been used for more than 200 years.
We Rank Three New Grillo's Pickles Flavors
The Wall Street Journal reports that the monks of Grimbergen Abbey, a 900-year-old monastery located outside of Brussels, have relaunched a brewery inside their walls for the first time since the early 19th century. The monks will collaborate with a sponsor, the Danish multinational brewer Carlsberg. WSJ explains that the facility will produce beers "inspired by ingredient lists found in ancient manuscripts in the abbey library," which Carlsberg hopes will diversify its portfolio of largely mass-produced lagers.
The new brewery is extremely cool for a few reasons. First, as WSJ explains, monks were the "original craft brewers" back in the day and knew how to use local ingredients for small-batch beers. Second, the brewery at Grimbergen Abbey has reportedly burned down three times since it was founded in 1128, with the priests rebuilding it each time. Finally, brewing at Grimbergen actually ceased in the early 1800s, making the new project extra special.
WSJ reports that the abbey will start with three beers that blend "tradition with exotic twists," including a beer that uses a kind of smoked malt that was reportedly popular in medieval times. Charmingly, one of the Fathers called the operation "a cathedral of beer." The priests also have final say over the beers, which seems fitting since they've got a direct line to the Big Guy in the Sky. Think they grow hops in heaven?