Due to popular demand and the fact that we love trying weird foods and candies, The A.V. Club regularly features Taste Tests. Feel free to suggest disgusting and/or delicious new edibles for future installments: E-mail us at tastetest@theonion.com.
The National Chocolate Show and Fine Chocolate Show—two linked events held in Chicago earlier this November—aren't nearly on the scale of the annual Sweets & Snacks Expo, which a bunch of us attend every year so we can come back to the office laden down with bulging bags of new and exciting mass-market products. Unlike the Sweets & Snacks Expo, which is a massive trade and media event, the Fine Chocolate Show is open to the public, for a hefty ticket price; it's also a commercial venue, where the public can taste products (a certain number of "tasting tickets" come with each admission) and then buy them direct from the maker. The National Chocolate Show, meanwhile, is a trade and media event held in the same hall at Chicago's touristy Navy Pier, but separated from the Fine Chocolate Show by a moderately guarded curtain. Genevieve Koski, web producer Sarah Collins, and I spent a Saturday flitting between both events; while Genevieve taste-tested a handful of products and Sarah filmed her for the video above, I hit the booths, talking to chocolatiers and their minions about their most interesting products and where to get them.
Mentioned in the video:
Palazzolo's Gelato is based out of Fennville, Michigan and has an amazing array of flavors—Genevieve missed out on the Oatmeal Stout and the Dark Venezuelan Couverture, for instance. The CEO, Pete Palazzolo, gave us a tour of the truck (sadly, it's only really used for trade shows and charity events, so it can't be found roaming the streets) and a rundown of his business, which extends to providing gelato for retailers—he said they can be found in more than 180 Walgreens, for instance—and putting other people in business with trucks or storefronts. Genevieve gripes in the video that the gelato is too frozen; clearly she wasn't around when he warned that you should always let gelato thaw for a few minutes so it's pleasantly soft, and also so the freshly exposed top doesn't get covered with ice crystals "which is the air freezing on the surface, and you know what that air is? The stuff everybody in this room has been breathing out all day." Palazzolo was a fascinating dude, and we're hoping he follows through on his suggestion that he might send us some of his savory gelatos—like French Onion, garlic, and sausage—for a later Taste Test.
Le Chocoholique sent us the fancy unfolding chocolate-box seen in a Mailbag video a couple of weeks ago, and was at the show handing out super-fancy truffles, including the adorable wee chocolate espresso cups with truffley fillings. These guys made some of our favorites. For instance, the "Velvet Elvis," a peanut butter, banana, and bacon chocolate.
Other highlights:
Mrs. Prindables makes gigantic fancy caramel apples covered with chocolate, and then sometimes layered with nuts, or SnoCaps, or anything else that could be persuaded to cling to caramel. Some of these things looked like Katamari Damacy projects. We asked the lady running the book how anyone was supposed to eat them. She suggested cutting them up and sharing them. So basically they're the gift that will hopefully give right back to the giver.
G/O Media may get a commission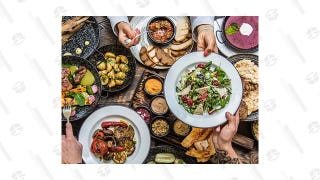 Save $430
$500 Restaurant.com eGift Card
Puffs Of Doom has a menu of 300 artisan creampuffs, including both sweet and savory varieties. They have a Chicago food truck, but also take online orders and have a Christmas-gift pack and a "Puffs Of The Month" Club. It practically goes without saying that these things are rich and delicious.
The proprietor of Gabriella Chocolates told us we'd be underselling her "cake truffles" if we called them cake pops or cake balls. So we won't. (They kinda are, though. High-end ones.)
The owner of Quintessential Chocolates warned everyone at her booth not to bite into her alcohol-filled chocolates, and to eat them whole instead. We found out why the hard way. These things are straight-up filled with a very wide assortment of delicious boozes, which means if you bite them, they squirt and make a mess. It was worth it, though. The company has a good-sized range of alcohols, including wine-filled chocolates for those who want to cut to the chase on the chocolate-pairing idea.
Speaking of which, the show featured six different chocolate wines, plus a double-chocolate vodka. We're hoping to get some of those in for a later taste test as well. Four of the wines were reds with chocolate notes (two from infused cocoa syrup), two were closer to cream liqueurs but had wine infused, and all of them were better than Chocovine, which we've already taste-tested.
Easily the most unusual stuff at the show was from Divine Organics, which markets things like pili-nut butter, "MacMulberry brittle" (chocolate with macadamia nuts and mulberries), and something called "Bliss Mix," a trail-mix-esque blend involving goji berries, cacoa nibs, and macadamia nuts, among other ingredients. It all seemed suspiciously healthy for a chocolate show, but the literature was hyperinformative—for instance, they sell dried Irish moss, which it turns out is used as a binding agent in place of eggs in raw vegan snacks.
And finally, here's a chocolate rooster, one of a series of elaborate sculptures built onsite by the French pastry school of Chicago's Kennedy-King college. Very pretty, guys, but seems like a waste of good chocolate, no?