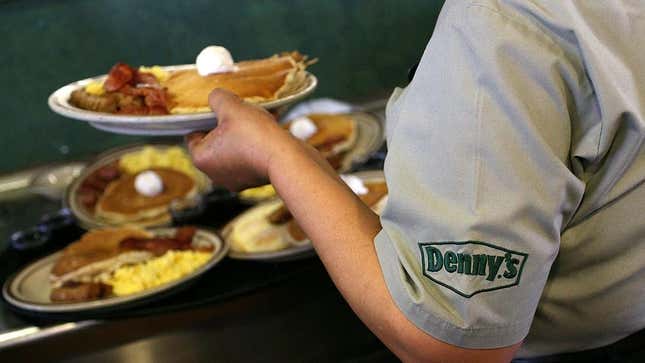 Freebies and giveaways are a small but significant way that brands can show their support to patrons, and on Veterans Day, that means offering free and discounted food to veterans, active-duty military, and members of the military reserves. If you're a member of the military or know someone who is, be sure to pass along these promotions, many of which extend beyond November 11 itself.

How To Dispose Of Cooking Grease The Easy Way After Frying
Where to get free food and drinks on Veterans Day
7-Eleven: Along with affiliated convenience chains Stripes and Speedway, 7-Eleven is keeping this year's Veterans Day offer simple but customizable, per a press release sent to The Takeout: Military members receive a free Quarter-Pound Big Bite 100% all-beef hot dog on Veterans Day. Topping options include hot chili, melted nacho cheese, fresh onions, jalapeños, and pico de gallo, so recipients can cover their dog any way they like.
Bonefish Grill: A casual seafood restaurant with locations across the country, Bonefish Grill is offering a free order of its Bang Bang Shrimp, no purchase necessary. Along with the crispy shrimp tossed in a creamy, spicy sauce, the deal includes a free soft drink and is available all day. Veterans, service members, and first responders are all eligible for this deal. Bonefish Grill also maintains a 10% Heroes Discount all year for this group. Must present ID to qualify.
California Pizza Kitchen: This year CPK will be offering a complimentary entree and beverage to both active and retired military members who dine in (proof of service required). When you dine in, you'll also get a buy-one-get-one-free voucher for pizza, pasta, or salad that can be redeemed November 12-21.
Cousins Subs: For our veterans and active-duty military people looking for a filling lunch on Friday, Cousins Subs is offering a free 7.5-inch sub on November 11 at all locations, per a press release sent to The Takeout. The promotion is only redeemable in person, so mostly relevant to customers in Indiana, Illinois, and Wisconsin.
Denny's: All military personnel are entitled to a free Grand Slam meal at Denny's on Veterans Day. The Grand Slam includes two buttermilk pancakes, two bacon strips, two sausage links, and two eggs any style. The offer is only valid for dine-in customers, so you can't place an order online. And while many locations are open 24 hours, this deal might only be available after 5 a.m. on Veterans Day at your nearest location, so you'll have to double-check the hours in advance.
Krispy Kreme: Members of the military are entitled to a free doughnut of their choice on Veterans Day, as well as a small hot or iced coffee. No purchase necessary.

Pilot: For Veterans Day, gas station chain Pilot is offering a free meal credit of up to $12 for members of the military and their families. Those who want to take advantage of this offer must be verified through ID.me in the brand's myRewards Plus app. The credit can be redeemed at participating Pilot, Flying J, and One9 Fuel Network travel centers from November 11 to 13. If you don't use all $12 in one stop, you can stop in again during that weekend and use the remaining balance.
Red Lobster: Another major American seafood restaurant is also offering veterans a free shrimp meal, and this one is a bit more substantial as it comes with Walt's Favorite Shrimp, fries, and coleslaw. This "Favorite" shrimp is hand-breaded, butterflied, lightly fried, and served with cocktail sauce. Note that you can only take advantage of this deal if you place a dine-in or takeout order in the restaurant between 11:00 a.m. and 4:00 p.m. local time on November 11.
Sheetz: Veterans with a vehicle and an appetite can stop by their local Sheetz convenience store this Friday for a free meal and a free car wash, per an email sent to The Takeout. The offer is redeemable at all locations, but of course, you can only get the car wash at those Sheetz locations that have a car wash.
SmashBurger: Veterans across the country can get their hands on either a free burger or sandwich from SmashBurger on Friday, per an email sent to The Takeout. However, this promotion is only available at select locations. To be sure you end up at the right place, check here.
Starbucks: In previous years, Starbucks has celebrated Veterans Day by offering veterans and service members a free cup of hot coffee. This year, the deal includes iced coffee as well.
Steak 'n Shake: At participating locations, all Veterans and active military members can receive a free Steak 'n Shake milkshake in the flavor of their choice on Veterans Day. This includes Chocolate, Strawberry, Vanilla, Chocolate Chip Cookie Dough, Kit Kat, Nutella, and Birthday Cake varieties.
TGI Fridays: Veterans Day is on a Friday this year, so what better place to mark the occasion than at TGI Fridays? Be sure to come in around lunch, because this Veterans Day offer is only valid from 11 a.m. to 2 pm.m local time, per a press release sent to The Takeout. During that window, veterans can have their choice of these meal options for free: cheeseburger with seasoned fries; chicken fingers with seasoned fries and coleslaw; a 6-oz. center-cut sirloin with mashed potatoes and garlic-butter broccoli; or a Caesar salad with grilled chicken.
White Castle: QSR Magazine reports that White Castle is offering a free combo meal or breakfast combo meal to all veterans and active-duty service members who dine at participating locations on November 11. The food will come in specially designed stars-and-stripes packaging featuring the White Castle logo. No purchase necessary.
Don't forget that service members, veterans, and first responders will have to show a military ID or proof of service to take advantage of these deals.