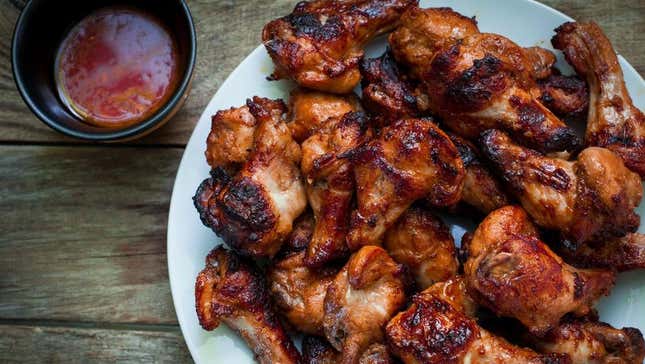 As I write this, I'm staring out at the four grills that occupy my backyard. I'm a dad who lives to grill; in fact, I'm even part of the influencer, or should I say grillfluencer, racket (I just made that term up). With Father's Day around the corner, you might be wondering what to get the Grill Daddy in your life. And while it might seem ridiculous for a guy with four grills to want anything else, the fact is that the market is currently flush with the best barbecue toys ever offered. So here's my own personal Father's Day wish list. If you're shopping for the weekend warrior in your life, I hope you gain some inspiration from my picks.

How To Dispose Of Cooking Grease The Easy Way After Frying
Also, a preemptive apology to all the families who will soon give over a portion of their backyard to a pellet smoker.
A pellet grill
Model I've got my eye on: Yoder YS640s Competition Pellet Grill (starts at $3,049)
I work with Traeger, and I'm very happy with every one of its grills I have used. So why do my eyes wander over to the Yoder YS640s pellet grill? I live in Austin, Texas, the capital of the modern BBQ movement, and it says a lot when a very popular BBQ joint around here counts a Yoder YS640s as one of its pits.

Listed as a competition-grade grill, this product has been used by the boys at Slab BBQ in competitions, and they assure me that this plug-in, set-it-and-forget-it electric smoker and grill delivers big time smoke flavor. Truth be told, the challenge of any pellet grill is to match the flavor of a true wood-burning offset smoker. How Yoder does it I'm not exactly sure, but I wouldn't mind finding out firsthand.
I admit it's unreasonable to squeeze a fifth grill into my life, and the starting price of $3,000 also gives me serious pause. But if you've got the room and the credit score...
An outdoor pizza oven

Model I've got my eye on: Gozney Roccbox ($499)
In my 20+ years of covering the food world, the explosion of Neapolitan pizza restaurants across the country has been remarkable. My kid is raised on 00 flour (pizza-making gold), whereas I was raised to Avoid the Noid. That trend has hit the home cooking market, with portable outdoor pizza ovens from both Ooni (here) and Gozney (here). I've been eying both brands hard, given that both offer models that take up little backyard space and come in around $500.

Right now I'm leaning toward the Gozney Roccbox, which can use wood, gas, or charcoal (and includes a pizza peel). You'll have to pay extra for the wood burning attachment (currently $100), and yeah, the optional cover ($50) is probably a useful add-on. Ultimately, it looks like an all-around, well-received product. I don't hear anyone complaining about their Roccbox.
These ovens aren't strictly for pizza, either: This spatchcock chicken recipe listed on the Gozney website has me itching to add this to my backyard collection.
A great thermometer
Model I've got my eye on: Thermoworks Signals BBQ Alarm Thermometer with Wifi and Bluetooth ($239)

Ten years ago, the idea of buying a $240 thermometer with built-in bluetooth technology might have seemed laughable—but tell that to a Grill Daddy who has been smoking a brisket for 15 hours and wants to get some kind of sleep. I have been a ThermoWorks user for over a decade; my Thermapen might be the most valuable tool in the kitchen, after water and electricity.
I have a probe thermometer, which allows me to monitor the temp of my grill and the food cooking in it, but with that model I am tied to line of sight. The idea of catching some Z's in my upstairs bedroom knowing I'll be informed, via zero-fail alarm, the moment my pork shoulder hits temp is the kind of security blanket I need. The Grill Dads out there know the feeling.
Quality charcoal
What I've got my eye on: Jealous Devil All Natural Hardwood Lump Charcoal ($40)
Yeah, a bag of coal sounds like a comically depressing gift. Unless you're the kind of dad who understands that ash and soot are key to cooking hamburgers. Professional BBQ guys turned me on to the legend of Jealous Devil, but I have yet to pull the trigger. That's what would make it a great Father's Day gift.
Beyond the recommendation from Pro Circuit BBQ guys, reviews of the product tell me an important factor: Each piece has a uniform size. This matters, because evenly sized hardwood makes for even temperature and longer lasting, consistent fires. Lesser brands saddle you with bags that have giant pieces, some kindling, and dust. That's the stuff Santa leaves for the bad dads.

A flat top grill
Model I own: Traeger Flatrock Flat Top Grill ($899)
This suggestion is no longer on my wish list—but it should be on yours. I was sent one of these by Traeger upon its launch, and I love it for one reason and one reason only: making the best smash burgers imaginable. Blackstone got the ball rolling first with these grill griddles, and that brand remains a cheaper alternative. I like the quality of the Traeger products I've used, including the Flatrock, though it does cost significantly more.

The hottest trend in fast food burgers right now is the crispy smash burger, and it's a style that can easily be made at home, especially with a grill like this. (By the way, I refer to this as a "grill," but it is a propane-fueled flat top griddle.)
"Can't I use a cast iron skillet on the stove to make smash burgers?" you might ask. Sure you can, though there's a chance you turn your kitchen into a Denny's galley just to make a maximum of two smashed patties a time. The Flatrock has just under 600 square inches of cooking space, and these outdoor grills obviously offer a lot more natural ventilation. If you're seriously considering either a Blackstone or a Flatrock, this video is a fair comparison of the two.

Finally, perhaps the ultimate pro move when you're Father's Day shopping for a grill enthusiast is to inspect Dad's current line of equipment and see what needs replacing. Since us Grill Dads love to squeeze every ounce of use out of our stuff (it's a Dad Thing), sometimes a brand-new pair of high-temp grilling mitts or a new chimney starter make the perfect gift. Oh, and a nice bottle of Bourbon never hurts either. Happy Father's Day!