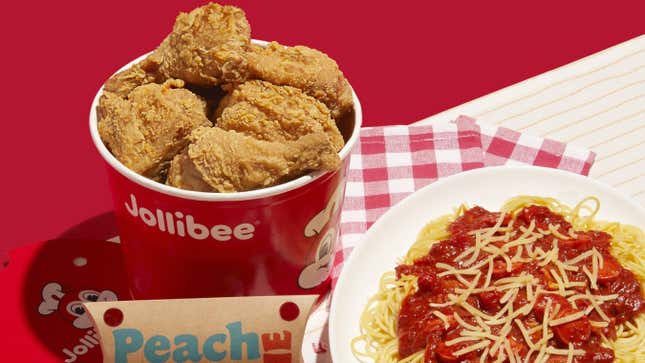 Plenty of brands like to assume that every dad out there wants to grill out in the yard wearing sensible footwear, beer in hand. But not all dads are barbecue pitmasters, and even for those who are, it's nice to spend Father's Day getting ever so slightly pampered with a restaurant meal.

How To Dispose Of Cooking Grease The Easy Way After Frying
Let Dad enjoy some deliciously discounted grub this year—because if there's one thing every father is happy to see, it's their kid spotting a great deal and jumping on it. Here are the discounts that'll make 'em proud on Father's Day:
BJ's Restaurant & Brewhouse: As a gift to dads, this restaurant chain with more than 200 locations is extending its usually Monday-only deal from now through June 19. You can get 50% off any large deep dish or tavern-cut pizza when you use code HALFOFF at checkout. The special is available for delivery or takeout orders made online or on the BJ's app.
Del Taco: If you're looking to celebrate Dad by taking him on a modest drive-thru run, Del Taco is running a BOGO deal to feed you both. Only on June 18, customers can buy one Epic Burrito and get another one free through the Del Yeah! Rewards app or at deltaco.com.
El Pollo Loco: Rewards members get two meal deals on Father's Day: a Family Feast of legs and thighs at a discount price of $20 and a coupon for a $6 chicken avocado burrito.
Fazoli's: Keep your Father's Day celebration simple and satisfying is enjoying some chicken wings. Whether Dad enjoys buffalo, parmesan garlic, or sweet honey BBQ, Fazoli's is offering a free order of five boneless wings with any $10 purchase.
Hard Rock Cafe: From June 16-18, Hard Rock Cafe is offering a special menu for all the dads, however, in the brand's own words, "zaddies also welcome." Dad can order a Smoked Old Fashioned and pair it with a New York Strip Steak starting at $45.99. The steak is grilled and topped with a bourbon and mushroom sauce and served with Yukon Gold mashed potatoes and fresh vegetables.
Jollibee: Mango pies and buckets of chicken? You're on your way to becoming Dad's favorite child. Jollibee is offering $5 off all Jollibee Bucket Treats when you place an online order via the app or website. The offer is only valid on June 18 and requires the promo code TREATDAD. Bucket Treats bundles are $28 before the discount; they always contain a bucket of chicken but customers have their choice of other options like tenders, sandwiches, or Jollibee's well-known spaghetti.
Marble Slab Creamery: Dads are more well-known for their savory cravings, but you can cater to their sweet tooth, too. Marble Slab Creamery is offering its loyalty members $5 off ice cream cakes (8" or larger). The offer runs through June 18.
Outback Steakhouse: For those who really want to offer Dad a feast, Outback Steakhouse has a full Father's Day menu featuring Classic Prime Rib and Bone-in Ribeye, plus a Smoked Cinnamon Pecan Old Fashioned or a Bloomin' Blonde Ale to wash it all down. Prices range from $4 to 10.99 for the drinks and $25.99 to $29.99 for the meats.
Pieology Pizzeria: Pizza can feed the whole family, but on Father's Day, the toppings are Dad's choice. Pieology Pizzeria is offering a BOGO deal that runs until June 19 and can be used in-store or online. Use the code DAD23 at checkout on Father's Day when you buy one thin-crust pizza and you'll get a second pizza for 50% off.
PJ's Coffee of New Orleans: On June 18, fathers get a free 12-oz. hot coffee or cold brew at PJ's. Nice and simple.
White Castle: After downing a full Crave Case of sliders, your family might still have room for a little dessert. Using this coupon, you can get a free dessert on a stick from White Castle with any purchase. The coupon is valid June 15-18.
No matter what craving Dad is having on Sunday, you can be sure there's a deal out there he might love as much as the you, the favorite child. Happy Father's Day to all who celebrate!