King Cake Snob is an annual contest tied to Mardi Gras in which people upload photos of their favorite King Cakes for others to vote on. For the uninitiated, king cakes are a New Orleans tradition of festive cakes usually baked with a small plastic figure or baby inside one slice (the baby originally represented baby Jesus). If a person is served the slice with the figure, they "win" and will have good luck. But Facebook deemed this year's King Cake Snob's ad too graphic, and apparently rejected it last week due to the presence of the nude plastic baby.
According to a press release on King Cake Snob's website, Facebook ad screens barred the ad on the following grounds: "This ad isn't running because it includes an image or video depicting excessive skin or nudity, which includes medical diagrams depicting external organs of reproduction, breasts or butt. This kind of material is sensitive in nature."
The ad depicts ten nude plastic babies against a white background surrounded by some confectionary sprinkles. Perhaps we all have our own standards of decency, but it did not cause me to clutch my pearls, nor would I be worried about children viewing it.
"The king cake babies depicted in the King Cake Snob image are naked, but not graphic in nature," Jay Connaughton, managing partner of the ad firm behind King Cake Snob, said in a statement.
G/O Media may get a commission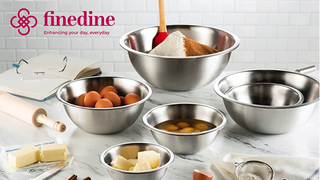 42% Off
Stainless Steel Mixing Bowls (Set of 6)
Facebook reportedly suggested King Cake Snob remove the offending images and "use content that focuses more clearly on the organization's product or service." There's no guidance on what to do when your organization's product or service does almost by necessity involve a nude plastic figure. I guess there's always the fava bean route?