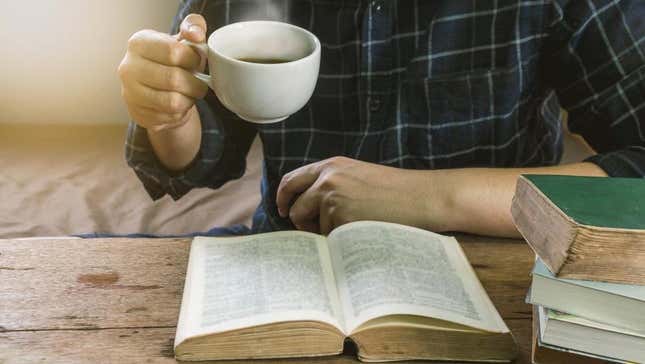 I'm a big fan of libraries. Unfortunately, it seems that the powers that be across the United States are not. Libraries frequently find themselves the targets of local budget cuts: in New York City, for example, Mayor Eric Adams suggested closing libraries on weekends in his latest budget proposal, only to reverse course after significant backlash.
All the Best Finds at the Sweets & Snacks Expo
The cuts to libraries make some sense, though. In the internet age, libraries don't serve the same purpose they once did. All the information we could once only get in a library we now have in our pockets, at our disposal whenever we want. We can even check out ebooks and audiobooks from the library without stepping foot inside. So why make a point to trek there? Libraries in the U.S. need new ways to bring people through the door—and a food and beverage program could be just the thing. Just ask the rest of the world.
American libraries have traditionally been spaces defined by strict rules: no talking, no eating, no drinking. But this reputation is shifting, and in other parts of the world, such activities are already actively encouraged. As Taste explained in a recent feature, libraries around the globe have morphed from boring spaces for nerds to eclectic spaces for cool people. Some even serve alcohol and $15 gourmet sandwiches. A library in Florence, Italy has a rooftop bar, and Australia's Canberra library has a full-service restaurant. Meanwhile, my local library has a vending machine that sometimes has bottled water.
While opening a trendy restaurant inside a library may sound to the uninitiated like something out of South Park, it is a promising tactic to get people into the building again. "Patrons come to the library just for this food—it's amazing," a librarian told Taste about the Book Nook Cafe, located in the lobby of a library branch in Sierra Vista, Arizona. As a result, those patrons are more likely to use the library's services and attend programs. Plus, food and drink sales drum up additional revenue for the library, allowing it to buy more books.
I would personally love it if every library had a cafe of some sort—bonus points for any branch with a bar. Do you know how many times I've had to abruptly leave the library because I got so hungry I couldn't focus? Or how many times I got so sick of silence that I wished I had a drink?
It turns out I actually don't have to look very far to find a cafe-library hybrid after all. The main branch of the Brooklyn Public Library has a cafe nestled right into its lobby, serving coffee, salads, and sandwiches. No booze, though. Perhaps I'll inquire about opening a rooftop bar.