Smith & Sinclair, a British company that's made up of "alcohol and confectionery innovators and multi sensorial experiential events experts," has released a line of edible fragrances designed to liven up your "cocktails." I put the word "cocktails" in "quotation marks" because the edible fragrances are also "lickable," and that seems pretty "suggestive."
The edible fragrances come in three, ah, flavors: Cherry Blossom And Mandarin, Watermelon Citrus, and Pear Vanilla, and have a "light, non-stick formula." As The Drinks Business notes, they're blended in the way that perfumes are traditionally blended, with "base, mid, and top notes," but the ingredients are tongue- and skin-friendly. The fragrances, which the company calls "garnishes," are made from natural ingredients, such as citrus fruit, herbs, flowers, and spices.
Smith & Sinclair's Instagram account features the product in photos like this one:
And also, in photos like this one.
G/O Media may get a commission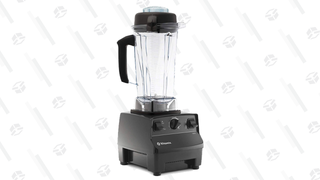 45% off
Vitamix 5200 Blender Professional-Grade
Melanie Smith, Smith & Sinclair's managing director, told The Drinks Business that the goal with these products was to find a new way to "reimagine" the atomizer, adding, "To give it an edge, we looked to the beauty world for inspiration to create flavors that deliver mind-blowing scents whether sipped or licked off."
Honestly, they sound pretty tasty. The Cherry Blossom And Mandarin flavor has a gin base and is recommended for Negronis; vodka serves as the base for the Watermelon Citrus scent, and pairs well with Prosecco and fruity cocktails; and the Pear fragrance has a vodka and Calvados vase, and is suggested for espresso martinis and brandy.
We've gotta say, Smith & Sinclair's edible fragrances sound a hell of a lot more appealing than Double Trouble, the fictional body spray/energy drink hybrid that The Good Place's Donkey Doug and Pillboi invented and planned to pitch on Shark Tank. But we sure do wish that they'd just call it fancy sex spray and be done with it. Nevertheless, they're available online, and can be shipped to the U.S. and Canada for a predictably irritating fee.