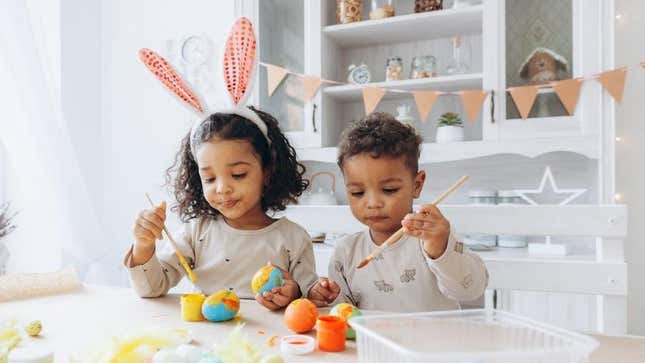 Painting potatoes instead of dyeing eggs for Easter? The nation's potato producers are hoping that shouting "eggs are still expensive, right?" will convince parents to make the switch.
Dr. Pepper Strawberries & Cream Is Tearing Us Apart
Axios explains that the idea of decorating potatoes instead of eggs started out as a meme back in January, thanks to persistently high egg prices. It didn't take long for Potatoes USA, the potato growers' marketing board, to hop on the trend.
On its face, painting a potato just doesn't sound as satisfying. The drab, gritty, eye-dotted, inconsistent exterior doesn't seem nearly as conducive to artistry as an eggshell, which allows color to easily slide across its surface. If you do successfully apply enough layers of paint to a potato for it to count as a painted potato, that's gotta be gloopy.
Maybe these issues aren't applicable to an artist who has finesse. This dad actually made some pretty okay-looking painted potatoes.
Parents might find that some aspects of painting potatoes are more appealing than decorating eggs, like the lower cost and the novelty factor. "I think they're looking to save money and I think they're just excited about a new thing to try," Erin Bracken, a representative of Potatoes USA, told Axios.
Egg prices were up 55.4% earlier this year, whereas potato prices are up 13.5%, according to the Consumer Price Index. Still, egg prices did go down by nearly 13% in between January and February of this year, so they aren't as expensive as they were at the beginning of 2023 when the potato memes began. Depending on how much you're shopping around, potatoes and eggs may be somewhat comparable, and you might find it's not worth explaining to your kid why the Easter bunny is suddenly addicted to spuds.
Team Potato also argues that potatoes are easier for children to hold, less fragile than eggs, and can be eaten (after being washed) if painted with food-safe dye.
Which, sure. Depending on the size of the potato, it doesn't seem like it would be that much easier for a child to hold a potato over an egg, though I can see how the texture and shape could be simpler to grip, especially for a tiny hand. If an egg is hard-boiled before painting, a kid would really have to be actively squashing it for it to break in a way that was unusable. Still, you can definitely still break a hard-boiled egg. Your kid probably can't shatter a potato unless they're a Marvel villain.
As for the food-safe easter egg/potato paint, however, that stuff is more expensive than the regular version, so at that point, you might as well just buy eggs. Or, if you want to be lavish this Easter—egg and potato prices be damned—just paint both.