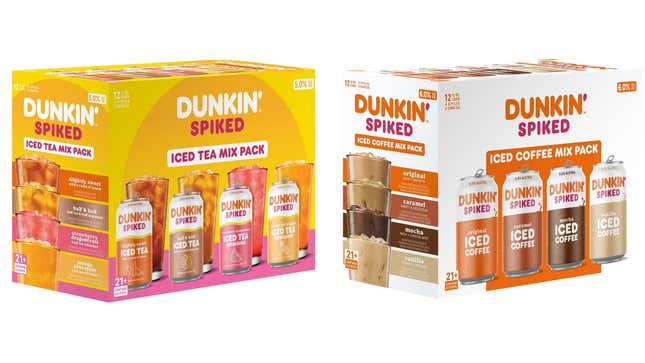 Caffeine and alcohol. They can be a buzzy match made in heaven one minute and an unpleasant bathroom visit the next. Nonetheless, Dunkin' has decided it's about time America runs on both. The fast food breakfast chain has announced the launch of a lineup of spiked iced coffees and teas for "a boozy spin on fan-favorite Dunkin' drinks."
How To Dispose Of Cooking Grease The Easy Way After Frying
Dunkin' Spiked, explained
The new canned Dunkin' Spiked beverages come in the following flavors:
Original Iced Coffee
Caramel Iced Coffee
Mocha Iced Coffee
Vanilla Iced Coffee
Slightly Sweet Iced Tea
Half & Half Iced Tea
Strawberry Dragonfruit Iced Tea Refresher
Mango Pineapple Iced Tea Refresher
The coffee offerings contain 6% alcohol by volume while the teas contain 5%.
These eight brand new ready-to-drink 12-oz. cans will be making their way to the shelves of grocery stores in 12 states starting in late August; teas will come first, and the iced coffees will follow in early September. Interestingly, they're not being sold quite the same way: The coffees will sold as single tallboy cans (only Original flavor), four-packs of Original, and variety 12-packs of all flavors. Meanwhile, the teas will be sold as single tallboy cans (Slightly Sweet), six-packs (Slightly Sweet), and variety 12-packs of all flavors.
It should be noted that the drinks will not be available at Dunkin' locations at all, but they will be available in grocery stores across Connecticut, Delaware, Florida, Maine, Massachusetts, New Hampshire, New Jersey, New York, Pennsylvania, Rhode Island, Texas, and Vermont. To track down a can or a pack, customers can go to the official website for the new offerings.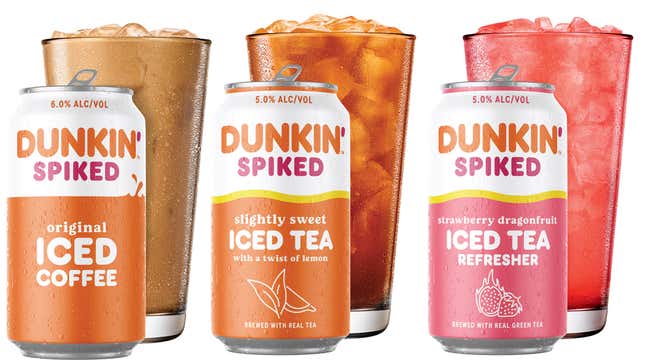 Why Dunkin' is boozing up its coffee and tea
"We knew we had the opportunity to create something special when we saw the positive response to our previous seasonal collaborations for Dunkin'-inspired beers," said Brian Gilbert, Vice President of Retail Business Development at Dunkin', in the announcement.

In the past, Dunkin' has collaborated with Harpoon Brewery to create different Dunkin'-flavored beer offerings. Last year, to celebrate the five-year anniversary of the partnership, the 2022 lineup included a Pumpkin Spiced Latte Ale, Coffee Roll Cream Ale, Cold Brew Coffee Porter, and a Hazelnut Blonde Stout. The limited-time beers were available on draft at the brewery and sold in bottled six-packs as well as in a Harpoon Dunkin' Box O' Beer mix pack, which featured three cans of each seasonal flavor.

Dunkin' Spiked isn't beer, however—it's closer to hard seltzer.
"Dunkin' Spiked Iced Teas and Dunkin' Spiked Iced Coffees are flavored malt beverages, which means the source of alcohol is a fermented base made from grain including malted barley," a representative for Dunkin' confirmed to The Takeout. You can read more about flavored malt beverages here, but basically, any canned beverage hovering around 5% ABV that isn't beer is likely to be a flavored malt beverage. That goes for hard seltzer, hard MTN DEW, beer popsicles, and the like. (It's also a cousin to those mini bottles of Fireball, although those bottles have a higher ABV.)
This newest launch from Dunkin' is giving espresso martini for the not-so-bougie bitches, and this author is here for it. As someone who never hopped on that particular caffeinated bandwagon, these cans appear to be a more casual way into the genre. Unfortunately, Illinois is not among the 12 chosen states for this new lineup, so my Mocha Iced Coffee will have to remain non-alcoholic... for now.